the Disney Studios in Burbank 1977
Excerpt from The History of Danish Animated Cartoons.
Section: Dansk Tegnefilm 1970-1980
In the summer of 1977, something happened which in any way proved to be a great event for me personally, as I and my daughter Linda, who was then 13, had been invited to spend three weeks of summer vacation with my sister in Las Vegas. And although the story does not really have direct relevance to the Danish animated cartoon story, I have decided to tell it because it is about American cartoons or rather: Walt Disney Animation, which as you know and have said, has had great influence on Danish cartoons.
The reason why my sister, Liza Romano, lived in Las Vegas, was that she and her husband had previously appeared together on some of the great stages in the city. Their specialty was the art cycling and tightrope walking. Her husband, Charles Romano, whose stage name 'Charly Charles', had Guinness world record for running the world's smallest art bike. This was now stored and displayed in the Guinness Museum of World Records in Las Vegas.
As far back as in 1968 my sister and brother in law had in their capacity as artistic ballet dancer and art cyclists participated in the American film "Star", a film that told the story of the once famous music hall and musical star Gertrude Lawrence. The film had the later world-famous Julie Andrews in the title role. In one of the film's sequences you see my sister and her husband perform with Julie Andrews.
However, my sister has stopped as an active artist at the time when my daughter and I kept holiday with her. After a week we drove by car through the Nevada desert to Los Angeles, where we stayed at the Hilton Hotel. From here we made excursions to Sea World in the south, to Disneyland in Anaheim in the southeast, to Hollywood and the Scandinavian village of Solvang and the cities of Monterey and Carmel in the north. The latter place the Mayor was called Clint Eastwood and he was identical to the world-famous actor and film director of the same name.
But my sister had with her former agent examined whether there was a chance that I could get access to visit Disney Studios in Burbank. It could not immediately, since you would need a recommend for a visit. Since I according to what was true could tell that I first had met and talked to Walt Disney in Copenhagen in the summer of 1959 and secondary Ward Kimball in the summer 1965, my sister's agent phoned Kimball, who immediately said good for me. The agent then phoned Walt Disney Productions to discuss when I had to come for a visit.
Unfortunately, it proved that the invitation would only allow access for a maximum of two people, which was a little disappointing for my daughter Linda, but she understood well that I had to have my sister with me, because she mastered the language better than was the case of my part.

The left image is photographed from a lookout area of Universal City Studios, which is located southwest of Walt Disney Productions on Buena Vista Street in Burbank. The white building complex, as seen in the far background in the middle of the picture is Walt Disney Studios. - The image to the right is I, Harry Rasmussen, standing at the front gate from which I am entering to Walt Disney Productions, whose studio buildings are seen in the background. One of the things that immediately fell in my eyes was that there was no sign or any text that told me that here was the world famous Walt Disney studios. - Photos: © 1977 by Harry Rasmussen.
On June 26, 1977 my sister and I drove to Buena Vista Street in the suburb of Burbank, where the impressive Walt Disney Studios was located and had been since 1938, when they were put into service for the first time. (Read if necessary. the section When the animated cartoon came to Denmark.)
One of the things that struck me most when we drove up to the gate into the Walt Disney Studios was that there was not so much as just a hint of a sign that said that this was the world famous cartoon studios. There was only a removable sign outside the porter's lodge on which in short, you could read: ENTER Keep Right.
At the otherwise friendly, but for the rest armed doorman, we said our errand, and then he called someone and told that Mr. Rasmussen with companion stood at the gate, waiting to be accessed. After hung up and examined each our bags - I had also just a folder with colour plates and a photo album with me - assigned the guard us that we should approach at the reception in the building to the right of the entrance and ask for our host.
After the friendly smiling lady at the reception desk had heard our errand, she immediately grabbed the phone and called someone, and she said something like this: "Please wait a moment, your host will meet you here! "
Perhaps especially I was a little confused and nervous about, first to have reached this far, and secondly, whom our host would prove to be. But we did not have to wait many minutes before a tall, thin man about 45-50 years old came into the lobby and quietly but in a very friendly voice immediately introduced himself: "My name is Ed Hansen, and I am appointed as your host on this visit to the studios!" Then he handed us a Visitor's Pass, on which stood: Date 6 - 24 - 77 Mr. Rasmussen is Authorized to visit Ed Hansen on date shown above. Authorized city - and then an illegible signature.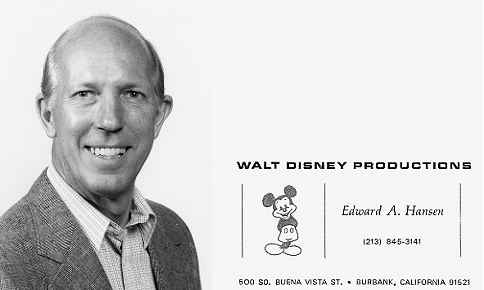 Portrait of Edward A. Hansen (1925 - 2007), which since 1952 had been employed by Walt Disney Productions, where he had meanwhile advanced to Manager of Animation Department. Still later he advanced to Vice President in charge of Animation, Administration & Production. To the right is his business card. - © 1977 by Walt Disney Productions. Photo and business card belonging to Harry Rasmussen.
Since both my sister and I expressed surprise over the name of our friendly host, he replied that he actually was of Danish descend, as his parents had emigrated to the U.S. in 1920 where he and his two siblings were born. He also told that he had family living in Denmark, which he still had never had the opportunity to visit. Moreover, it was with regret that he unfortunately did not speak much Danish and therefore he had to speak English to us. But it was not a major problem, especially when my sister spoke fluent English, and I even spoke it fairly well, albeit not always correct.
After this presentation Ed Hansen asked us to follow him, as we walked through the building and out on Minnie Street and along Dopey Drive, where the entrance to the Animation Building was located. There we went up to one of the floors where we got into a long corridor and stopped at a counter. Along the way I had told Ed Hansen that I had brought a photo album, which among other things, contained photos from back in 1959, when Disney visited the Nordic Cartoon Films in Copenhagen. "Have you also brought a portefolio with you?" He asked. "No," I replied, "but I have some examples drawn from an animated cartoon, me and my compagnon have been preparing."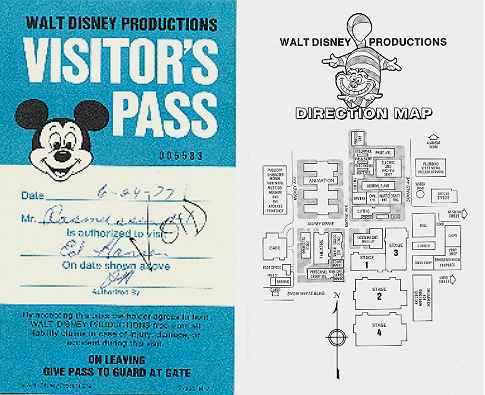 Above is the Visitor's Pass, which I, Harry Rasmussen, was handed on arrival at Disney Studios on 24 6 77 and I was allowed to keep when I left the studios after the visit. The gatekeeper at the end wrote with his pen 'Void' (invalid) and gave me the passport. To the right is the back of the pass, which was a "Direction Map" of the study area. - Visitor's Pass: © 1977 by Walt Disney Productions. The passport belongs to Harry Rasmussen.
Here at the counter Ed Hansen asked for permission to see the photo album and furthermore they carried color plates. We reviewed the first photo album and even relatively well, as he wanted to know what the photos envisioned, including some from my time with "The Tinderbox". When he then got the three hand-color plates from "It's perfectly true!" Watching these, he expressed admiration for the style they were drawn in, and the chickens, which he found amusing. Just as he exclained, as he held the plates in his hands: "May I borrow these for a moment?" - "Yes, of course," I replied, after which he rapidly disappeared in through a door behind the counter. After approx. 5-6 minutes he came back with the plates and said, "I have shown your drawings to some of the staff, og they asked me to ask you if you would consider coming over to work with us?"
I was completely flabbergasted by this question, because it had not been on my mind, quite apart from that I had never even seen me as sufficiently gifted and serious enough to ever wanting to work for Disney. After a short consideration, I replied: "I have never for a moment thought you would ask me that question! My answer to you must be that my private situation at home forbids me to say yes. And furthermore, I had rather be the big guy in a small company as ours at home, than a small guy in the big company like Walt Disney's! " - "Well, I think I understand you! But if you ever change your mind, please let me know!" Ed said as he with a little hesitation delivered the plates back to me.
Then Ed led us to a door, behind which two elderly veterans of Walt Disney Studios had their office. It was Ollie Johnston and Frank Thomas. After Ed had presented my sister and me, the two elderly and very friendly gentlemen, told us that this modest space of about 20 m2 had been their office ever since 1938, that is for nearly forty years! Their tables with the lighting desks stood facing each other, so they could see each other at work. The walls were covered with mounted storyboard panels and the windows were covered with awnings outside and the inside of window blinds, both of which would block the sunlight, which among other things was a necessity to be able to see through multiple layers of animation paper on the lighting desk.
After a few minutes of polite inquiry by the two friendly gentlemen, who we were and where we came from, I asked what they were doing at the moment. Instantly they were both fired up and told with great willingness and openness that they were preparing a major book on the work procedure of what was happening and had happened for many, many years at the Disney Studios. For this purpose they had written a synopsis of the topics the book should contain, and this 'prescription' they kept constantly in mind, not to get distracted from the substance which was extremely comprehensive. The work consisted, among other things also, to find classic examples of good and exemplary animation, namely in the form of animation drawings from famous scenes in Disney's long cartoons, first and foremost, "Snow White and the Seven Dwarfs".
I do not know if the reader can follow me, but I was just about to swoon at the sight of the original animation drawings, for example. of the evil witch that hung pinnet up on the storyboard board right before my eyes. She was drawn and expertly animated by Art Babbitt. Or the dwarves Doc and Grumpy in the washing scenes, animated by Fred Moore, not to mention Dopey, in the same sequence swallows the hand soap and hiccup bubbles. He was animated by Bill Tytla. Or the fine and delicate clean-up drawings of Snow White in different situations. Snow White was animated by Hamilton Luske and cleaned-up by, inter alia, Marc Davis. And by the evil queen who turns into a horrific witch, again an animation by Art Babbitt.
There also hung series of animation drawings, for example. Felix the Cat from "Pinocchio" (1940), expertly animated by Eric Larson, who also made the animation drawings of the owl in "Bambi", from the scene where it talks about all the animals have been "Twitterpated". And of Bambi and Thumper on the ice in "Bambi" (1942), which was animated by respectively Frank Thomas and Ollie Johnston, and Captain Hook and Smee from "Peter Pan" (1953), which was also animated by respectively Frank Thomas and Ollie Johnston. Not to forget Milt Kahls ferocious tiger from "The Jungle Book" (1967).
Throughout the period of about an hour, as the visit to Thomas and Johnston lasted, Ed Hansen has been around, to find out who of the cartoonists and others who did or did not have time to greet us. My immediate impression was that there was a relaxed atmosphere at Disney Studios, and all we got to meet and talk with were friendly and accommodating. They had just then completed production of "Pete's Dragon", a mixture of real movies and cartoons. We saw some of the big plastic models of the dragon "Elliot," which had been used during the filming of real film sequences, and also the set pieces of a city, as in the form of facades etc. was built outside the firm and more prosaic buildings at the rear of the studio land. Everything was still there, right in the sunshine, when my sister and I visited the place.
Before "Pete's Dragon" they had completed the work of one of the great 'classic' cartoons, "The Rescurers" which had required a lot of effort and long hours for everyone at the studio.
The studio found itself for several reasons then in a sort of interregnum in terms of plans for new cartoons, but there were particular a plan for a long cartoon starring monkies as protagonists. The idea was as far as I understood emerged from the work of "The Jungle Book", but the project had, according to Ed Hansen not really been able to get hold of. (I think some of the ideas here later has been used in "The Jungle Book 2" (2002). But then there were two long cartoons in which you actually were about to bulldoze. One was "The Fox and the Hound" (1980) and the second "The Black Cauldron" (1985).
During the production of "The Fox and the Hound" a group of 19 persons left Walt Disney Productions, allegedly by dissatisfaction with the situation. It was about Don Bluth, Gary Goldman and John Pomeroy and sixteen others, all of whom had left the place to start making their own cartoons.
Ed Hansen later told me in a letter that it had meant to him, who was Animation Department manager at that time, that he himself once again had been forced to settle down behind the lighting desk and make animation drawings to the featurette "Mickey's Christmas Carol" (1983).
For the rest, I had also brought along the book "The Disney Films" by Leonard Maltin, which I had bought a few days before, when we were visiting Disneyland in Anaheim. Shortly after we had arrived at the Disney Studios and had met Ed Hansen, I showed him the book, which he well knew. I asked if he believed that some of "the big guys at the studio" would sign the book in places in this that they themselves chose. "Of course, They would be happy to do so, but as they regularly are very buzy, I must in forehand mark the pages, where I think they will prefer to write their names!" Ed Hansen supplied therefore some pages with small strips of blue cardboard on which he had written the name of each of the artists that he and I jointly felt that there could be talk about.
When we felt that we could not afford to occupy more time of the two gentlemen's time, I asked if they would be kind enough to sign my precious book. "Oh yes! Sure," exclaimed Frank Thomas and Ollie Johnston nodded. Frank Thomas wrote his name next to a picture of Bambi and Thumper, for it was the characters he had primary responsibility for in the "Bambi" movie (1942). Ollie Johnston wrote his name next to a picture of Mowgli and Baloo. He had mainly been responsible for Baloo the bear in the movie "The Jungle Book" (1967).
My sister and I then thanked Frank Thomas and Ollie Johnston that they so willingly told about their work with the book, which also came to be called "Disney Animation. The Illusion of Life ", which was released in 1981 and almost became like a bible for younger generations of cartoon people of all categories.
Ed now led us to a studio close by, and here sat a little older, stout gentleman behind a desk and worked. It turned out to be veteran Eric Larson, and also he was extremely friendly and welcoming to us. When he heard that we came from Denmark, he said something that he far back in the family also was of Danish descend. Eric Larson was also ceased to animate and had instead gone more and more to teach this discipline at The Disney Art School, and in addition he served as a consultant to some of the subsequent long cartoons.
And also he wrote with great goodwill his name in my book, namely at a picture of "Sleeping Beauty", surrounded by various birds, including an owl. Eric Larson was often referred to as "the bird man" among employees, because he was good at drawing and animating birds, so as a rule he was put on such tasks. His owl in "Bambi" is simply unforgettable. "Sleeping Beauty" is from 1959. But Eric Larson drew and animated much more than birds and owls in the course of his long career at Walt Disney Studios.
Now it was time to pay a visit to the art director Ken Anderson, who had a studio of his own, which was filled with drawings everywhere and bookshelves with books and all kinds of stuff. And his daily work was done behind a tiny drawing board, which was wedged into a corner. He was exceedingly gracious and accommodating and when he heard that I came from Denmark, he told me that he just had to been on a cruiser's voyage to Norway, and here he has, inter alia, met a lady by the name Turid, who had told that she worked in a kindergarten in Denmark. (My future wife, Birgit Bennedbæk, who was also an educator, could several years after telling that one of her recently colleagues had the name Turid and was from Norway!' Its a small world!).
Ken Anderson showed us with joy the sketchbooks he had drawn in the Norwegian-trip, and it was impressive good drawings, much like our own excellent illustrator Des Asmussen. Ken also said that he preferred to draw the people and places he saw and met on his travels, rather than use photography. The last he left to his wife. He also said that he had previously been to Copenhagen and Tivoli, and that he had "a friend in Copenhagen. His name is Erik Stengade!" To Ken's surprise I could only tell that Erik Stengade was the name of the architect who had designed the building complex in Taastrup, where I lived and still live. "Do you know him?" He asked. "No, not in person, only by name and profession," I replied. Ken then told that Erik Stengade precisely in its capacity as an architect had worked at Disney Studios as a consultant on the animated film "The Little House" (1952). "I will write him a note, you can deliver to him, when you come back to Copenhagen!" He exclaimed, and sat down to write a greeting on a notepad, headed by a distinctive image of Mickey Mouse, who turns out his arms and where also was printed Kens own name. These notepads were standard for all significant people at the Disney Studios and were used including for internal communication, etc. On the notepad Ken wrote the following: "Eric Stengade - Hello Eric! Ken Anderson - Meet my new friend Harry Rasmussen - "
(After my return home to Denmark and after I had resumed work, I found Erik Stengades name and phone number in the phone book, and then I called him. He was happily surprised to get a greeting from his old friend at Disney's, and told a little about his time at Disney's, where he mentioned he had been an employee in the short film "The Little House". Moreover, he said that I would be allowed to keep Ken's written greeting to him as a keepsake, which of course I thanked him for. Finally, he could confirm that he had been the architect of the building complex "Kingosparken" in Taastrup.)
It was a heartfelt farewell to Ken Anderson, but before we left his office, he wrote to please his autograph in the previous aforementioned book. Next to a picture from "101 Dalmatians" (1961) he wrote: Best Wishes Kenneth B. Anderson.
(Later on I send via Ed Hansen, a greeting in the form of a double card for Ken Anderson. The image on the card was a drawing of a girl in a red suit, designed by the great Swedish cartoonist and painter Carl Larsson. Both Ken and his colleagues were quite ecstatic with Carl Larsson and would like to know more about him and his art, and whether he was still alive, and I had to tell them that he did not, he died already in 1919, the year since the very young Walt Disney slowly started making cartoons.)
Thereafter Ed Hansen escorted us through the corridor and across a rectangular and really not very large conference room, on which hung storyboard panels on one long wall. The other long wall was the window side. To our great surprise we met here again the two smiling gentlemen, Frank Thomas and Ollie Johnston. There were also two other men present in the room, one of which turned out to be none other than the famous cartoon film director Woolie Reithermann and the second the story artist Vance Gerry, whose name was not known by me in advance.
There was quite simply held a story meeting, as so often, yes, allmost daily, had been the case in Walt Disney Productions long history. As Woolie Reithermann heard that I came from Denmark, he exclaimed: "Denmark! Do you work in the porn business!? " The question surprised me totally, and at the moment I did not know what to say. But after a while I said, "No, we do make many other things in Denmark than porn!" - "I sure hope so," replied Reithermann with a disarming smile. He could certainly know that I had felt his questions troublesome.
Reithermann was also very interested to know who and what my sister was and did, and when she told about herself and her career as an artist, he exclaimed spontaneously: "Quite a sister you have got here!" And Thomas and Johnston seconded Him. Vance Gerry had in the meantime left the room. But anything more than above mentioned, was hardly talked about at that meeting, and after Reithermann had written his autograph in my book - he chose to write his name above a photo in which you see himself and storyman Larry Clemmons, the actors Sterling Holloway and Bruce Cabot, which laid the voices to respectively the snake Kaa and Baloo the Bear. There was thus talk of a photo from the recording of the dialogue for "The Jungle Book" (1967).
We then said goodbye to Reithermann and once again to Thomas and Johnston, and just as we had come outside the door, we met again Vance Gerry. I apologized that I unfortunately did not know his name of publicity, and asked what was his employment at the studio. Exceedingly friendly he replied: "I am a storyman, and have been working here for many years!" - "Would you please write your signature in my book?" - "With pleasure," he answered and signed his autograph close to a photo from "The Aristocats" (1970).
It was just outside the conference room, that a large plastic model of the dragon Elliot was located, and it was in the corridor along with that and behind glass cabinets that there was displaying text and color plates from various animation projects, both some that had been produced, and some that were being planned. But apart from looking at the panels to the above mentioned cartoon with monkies in the lead roles, there was unfortunately no time to delve more into the side of the glass cabinets, because the otherwise extremely patient and modest Ed Hansen, who always remained in the background, but who now asked us to follow him again.
This time we went down the stairs to the hall at the entrance, and on the big wall here was painted a huge picture of all the well-known cartoon characters from Disney. I noted in particular that the outlines of the characters were drawn in the 'old fashioned' tight and smooth line, and when I let fall a note, Ed said: "Yes, you are right! But the younger generation to our studio prefer this style and hope to use it again in future films! "
We now left The Animation Building and went on along Mickey Avenue to a building, such as contained the The Disney Archives, and here we were introduced to David R. Smith. He was archivist, researcher in Disney history and author. Again an extremely friendly and welcoming man, who happily showed us around in the archives. One of the things that particularly caught my attention was a display case with backgrounds and cels from the short film "The Old Mill" (1937). The particularly interesting aspect of this very delicate and romantic cartoons were, moreover, that it was partly recorded in Multi plane levels. I knew this in advance, but here I could with my own eyes see an arrangement that showed how the film's three-dimensional effects were achieved.
A multi-level recording camera stand consist of many horizontal glass planes on which is mounted backdrops, set pieces and cels with figures. But in this case consisted layout only of three planes: a foreground plane, a plane with cels and a background plane or level. There was probably a distance about 15-20 cm between each level. The scene imagined the interior of the old, dilapidated mill with an owl, doves and a bird mother, which had built its nest in one of the gear holes, but fortunately in a place where the gear needed a 'tooth', which therefore did chicks mischief when the mill wheel turned around.
It was touching to see how small and minutely all of it was in fact made, and particularly of course the foreground as of optical, perspective grounds were even very small. It must therefore have been a camera field of approx. 9x12 cm, which had been used during shooting. The background was drawn and painted approx. in size 18x24 cm. But I could clearly recognize the scene from the film itself.
Dave R. Smith showed up and told us willingly everything we wanted to see and hear about. But time began to be limited, because we could not of course permit us to take up these friendly people's time much longer than we had already done.
I do not remember anymore where Walt Disney's office was located, but Ed showed us at least the place at some point during our visit and told us that everything was untouched and exactly as back in 1966, when Disney left it for the very last time in his life. His office was not really quite large and contained besides a desk also some cabinets and bookcases. Beside the green blotting pad on the desk, there was a notebook of the same kind that I had gotten a sheet from Ken Anderson, but in this case, with the name of Disney on. When I asked Ed if I could get a sheet from the notepad, he replied that, unfortunately, it was impossible because it had been determined that even this copy which was the only thing that was left was to be preserved intact for posterity. This I of course had to accept, albeit a little disappointed.
Ed explained furthermore, that Walt Disney's office almost was being regarded and treated as something of a shrine where one could honorable the memory of an uncrowned king of film animation, who have had his daily work here for decades. And it was here that he had directed and supervised the many activities and cartoons that had been produced over the years from 1939 to his death December 6, 1966, only 65 years old. But he was only rarely in his office for Walt had followed and supervised personally in everything that was going on at the studios, and although not all seemed well on his 'interference', so I knew at least from his top artist that it first and foremost was his personal merit that Disney cartoons got up and had the quality that made his name became world famous. Without his actions, ambitions and goals for how cartoons should and ought to be, cartoon art in the 20th century, or at least entertainment cartoons, would probably have been standing longer at the primitive stage it had in the first decades of the 1900s.
After the resignation of Dave R. Smith, who invited us to visit him another time, Ed Hansen led us into the Camera Department, where there was a lot of trick camera that looked like the ones I knew from home. But somewhere was also the little trick camera table that had been used to record some of the oldest cartoons, including Mickey Mouse films. Now it was only used for recording line test scenes that did not require back lighting. Then Ed led us into a special room where the mighty and probably world-renowned multi-level-trick camera stand was installed. It was a huge monstrum which had been used for recording multi-level scenes for some of the great cartoons. As far as I understood, it was the first time been used in some scenes for "Pinocchio" (1940) and then to several other of the world-famous long Disney cartoons, such as. Peter Pan and the children's flight over London in "Peter Pan" (1953). But it was gradually moved away from using it extensively, simply because it was a very complicated and time-consuming process to use in making cartoon films.
From Camera Department Ed then led us to the Paint Lab, and it was outside of this that the aforementioned Village Environment for the movie "Pete's Dragon" was built. From here we went through Minnie Ave back, past the Animation Building and walked to the Sound Effects-Studio, which was right next to the building where Ed had welcomed us upon our arrival. But here, we were welcomed by Jim McDonald, who was the head of this department. It was by the way him that once had done the voice of Mickey Mouse.
From here Ed led us into the place of great cinema, which lay behind the sound studio and had entrance opposite the entrance to the Animation Building. Here, we were welcomed by a sound engineer, whose name I can no longer remember. He sat behind a huge sound editing device and was supposedly mixing the sound to a cartoon, whose title I was not informed of nor asked for, because I was getting very tired in the head and legs, as we had not actually had the opportunity to sit down in the approx. 3-4 hours, which the visit has lasted.
Finally, Ed led us back to the gate, and we said goodbye and agreed to stay connected with each other at right, which we also did in the next 10 years, especially in the first five years we exchanged letters frequently.
Shortly after my returning home from the United States in 1977, I was also sent a beautiful 17-page brochure from Ed, on which cover his handwriting had written: "It was my pleasure showing you the Disney Studio - Best wishes always Ed Hansen." On the cover of the brochure was printed: "Disney is looking for the colorful new characters," and on page 2-3 was there beneath some photos of different Disney employees: "You're looking at some of the best animators in the country. We're looking for more." On page 4-5 could be further read: "Your challenge become to expand the frontiers of animated entertainment". They searched people for story / story sketch, animation, clean-up, effects animation, layout / background, and finished production.
By receiving exactly the abovementioned brochure, I understood very well that Ed indirectly referred to the questions, he had asked me during my visit to the Disney Studios, namely whether or not I'd like to come over and work at Disney.
Immediately after this I sent Ed a book that I can no longer remember neither the title or content of, but a week later came a reply letter from Ed. The letter was written on an A4 sheet of letter paper, where the header was a picture of Bernard and Bianca from "The Rescuers", which has just been released. The letter is dated July 26, 1977 and reads as follows: "Dear Harry: Thank you for the book. / I have always loved Denmark, the birthplace of my parents, even though as yet I have not had the opportunity to visit there. / I enjoyed your visit very much and hope someday we will meet again. / Sincerely, Ed.
© 2014 by Harry Rasmussen.
******************