Walt Disney Shows in Metropol 1939
<![if !supportEmptyParas]> <![endif]>
<![if !supportEmptyParas]> <![endif]>
Here I have again been like to see back in time, more precisely 72 years back where I at Christmas 1939 for the very first time in my life had the opportunity to see "Walt Disney's Christmas Show" in Metropol in Copenhagen. As mentioned earlier, I had seen "Snow White and the Seven Dwarfs" Christmas Day 1938 in KINO in Nakskov where I with my parents and two kid brothers lived back then. We moved to Copenhagen on  April 1st,1939. But the "dedication" and "fascination" took place during a holiday with my maternal grandparents, who in April 1938 was also moved from Bursø nearby Maribo to Copenhagen. They had my cousin in care, and he was FDF scout and came in the clubhouse over on Blågårdsplads where  here occasionally were shown earlier Chaplin films and early Disney cartoons in 16mm format, in both cases dumb movies and without colors. But then, it was not better used, so the mere fact that something was moving on the silver screen, was interesting and exciting, and very good it was if the films simultaneously was funny, and that was generally the case with both Chaplin's and Disney's films. The Disney cartoons, the other children in the crowd and I then 10-year-old kid saw on this occasion, were some of the glorious black and white Mickey Mouse films from the early 1930s, and they were hilarious and at the same time exciting, because it was competition between Mickey and Black Pete on which one of the two who did their best to deserve Minnie's favour.
<![if !supportEmptyParas]> <![endif]>
But in Walt Disney's Christmas Show 1939, the 6 short animated films that were shown at the occasion, all in brilliant colors. The films in question was 1. "Den tapre Skrædder" (1938, "The Brave Little Taylor "), 2. "Tyren Ferdinand" (1938; "Ferdinand the Bull"), 3. "De tre smaa grise på nye eventyr" (1939, "The Practical Pig"), 4. "Den grimme Ælling" (1939, "The Ugly Duckling"), 5. "Anders And paa glatis" (1939, "The Hockey Champ") and 6. "Søspejdere" (1939; "Sea Scouts").
<![if !supportEmptyParas]> <![endif]>
It must be said that all six cartoons did a great and lasting impression on me, but my favorites was "The Brave Little Tailor", "Ferdinand The Bull" and "The Ugly Duckling". Perhaps especially because there was an epic action in those three cartoons, all the contents with a prelude and continuous action with a climax and a final. The characteristic of the three films was also that apart from "The Brave Little Tailor" in which Mickey Mouse is the main character, then starred none of the familiar and otherwise incurred characters from the Disney character gallery. But of course I thought also that the three other more episodic cartoons were funny, with their many ingenious contrivances and gags.
<![if !supportEmptyParas]> <![endif]>
<![if !vml]>

<![endif]>
At the corner of Frederiksberggade and Kattesundet, was in the years 1914-82 the venerable cinema "Metropol" where especially a children's audience since 1934 had been able to enjoy the annual "Walt Disney's Christmas Show" with the glorious, colorful short cartoons with Mickey Mouse, Donald Duck, Goofy and Pluto and others, as always aroused jubilant joy. Newspaper ads for the Christmas show throughout the years, the same design and style, as seen on the ad to the left, but of course with different text for each year. In the photo at left is seen Metropol, as its entrance looked in many years, but obviously with changing posters and exhibition images. Source of photo unknown. In the photo to the right shows the cinema, most recently to shop for clothing company Hennes & Mauritz.
- Photo © 2001 Harry Rasmussen.
<![if !supportEmptyParas]> <![endif]>
<![if !vml]>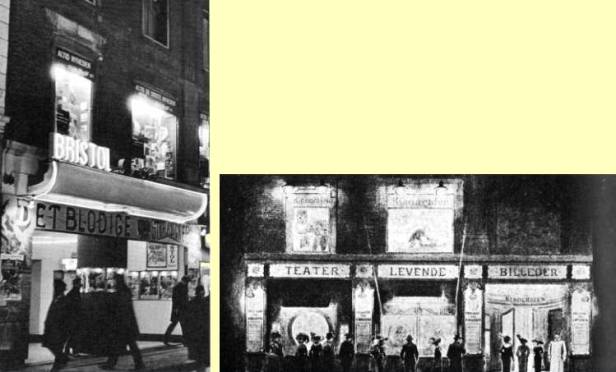 <![endif]>
In the photo at left the cinema BRISTOL in Frederiksberggade 25, as it appeared from 1939 until it was closed down in 1966. The drawing on the right shows BRISTOL's predecessor KINOGRAFEN's facade same place, and this probably looked like shortly before the theater temporarily closed in 1939 due to the conversion and then reopened  December 26 of that year under the name BRISTOL. - The photo of BRISTOL cinema, from Politiken Press Photo and drawing from Politiken mention of KINOGRAFEN's opening  oktober 9, 1906. The Danish Film Museum Collection. The two images are reproduced respectively. pp. 24 and 218 in Erik Norgaard: Moving images in Denmark - From the old cinema to modern times ... ". © 1971 by Erik Norgaard and Lademanns Publishing Companies, Copenhagen.
<![if !supportEmptyParas]> <![endif]>
Probably inspired by Kinografen's "Springtime Show" in March, 1934, which also was shown short Disney cartoons, began Metropol also, and at least since 1935 to have its "Metropol's Springtime Show," which was shown in May and each performance was also of about 1 hour duration. At these Springtime shows had also been 6 of Disney short cartoons. So far I've been able to find out, so ended Metropol with its springtime shows in 1939, but I have not had the opportunity or the chance to see these springtime shows, because as mentioned I first moved to Copenhagen in April 1939 and then there was to begin with much more to think about than to watch cartoons and movies.
<![if !supportEmptyParas]> <![endif]>
As for Mickey Mouse, then they had on the title "Mikkel Mus", been able to see this figure as a full-page cartoon strip in the "Sunday B.T." from the newspaper's No. 5, 1931. As everyday stripe under the same title, "Mikkel Mus", could the character also be seen in the newspaper "B.T." from  april 18,1934.
<![if !supportEmptyParas]> <![endif]>
Here, for nostalgia's sake include the short Disney cartoon that was shown at the Metropol's Springtime Show in May 1939. These are the following delightful films: 1. "Mickey's Papegøje" (1938; "Mickey's Parrot"), 2. "De smaa Havfruer" (1938; "Merbabies"), 3. "Hollywood-Stjerneparaden" (1938, "Mother Goose goes Hollywood"), 4. "Anders And spiller golf" (1938, "Donald's Golf Game"), 5. "Anders Ands Tycho Brahesdag" (1939, "Donald's Lucky Day "), and 6. "Hunde-Udstillingen" (1939; Society Dog Show ").
<![if !supportEmptyParas]> <![endif]>
As for Metropol's Christmas Shows, so they began probably in 1934, and at the first of these was shown the following short Disney cartoons: 1. "Julenat" (1933, "The Night Before Christmas"), 2. "Den legesyge Trofast" (1934; "Playful Pluto"), 3. "Mickey i Lilleputternes Land" (1934, "Gulliver Mickey"), 4. "Den dovne Græshoppe" (1934, "The Grasshopper and the Ants"), 5. "Rødhætte, Ulven og de tre smaa grise" (1934, "The Big Bad Wolf"), and 6. This movie is unfortunately not managed to find the title.
This year, 1934, Anders And (Donald Duck) debuted in "Den kloge lille Høne" ("The Wise Little Hen"), but in Denmark the quack-quack first appeared in Metropol's Springtime Show in April 1935 in such films as "Mickey som Teaterdirektør" ("Orphans' Benefit"). As the comic strip began "Anders And" ("Donald Duck") in Denmark in "Dansk Familieblad" ("Danish Family Magazine") No. 49, 4th of March 1935, ie before he was seen in the Metropol's Springtme Show the same year.
<![if !supportEmptyParas]> <![endif]>
Masterful cartoons
Back then in 1930 I did not so thought much on what animators and other key employees of Disney, who was behind each short cartoons, which at the time did not had names other than Walt Disney on the credit list, which sounded "Walt Disney Presents ". So like most of the audience I thought without reflecting about it, that it had to be Walt himself, who drew all the films. An otherwise incredibly naive way of thinking, which, however, was strongly supported by the publishing strategy judiciously used from Walt Disney Productions. The common cinema-goer could or would not care less about who had made the cartoons, If they just were funny and entertaining, and it was the course. And "the brand Walt Disney" guaranteed for quality films, because the big boss always wanted to make his cartoons so technically and artistically perfect as humanly possible with the creative and reproductive staff, he always had at his disposal.
<![if !supportEmptyParas]> <![endif]>
There have over the years been said and written many hard words about the powerful Walt Disney, especially about his personnel policies and his right-wing political views, but you can't take from him that he was personally responsible for the production of a gradually large number of both short and long entertainment cartoons. Most of the films, especially the feature films, are of an exquisite technical and artistic quality. But for critical and high-brow people, especially in the 1960s, for whom alone the word and the concept of entertainment was and is a dirty word, there was talk about movies with a banal artistic style and banal and trivial content. What the critics did not see, or perhaps purposely closed their eyes? was that some of the best and most creative people in his staff of employees, people who had been with him ever since the early 1930s. These people were that in their daily hard work helped to realize the ambitions and dreams of producing quality cartoons that both they and their entrepreneurial employer had. In my personal case, I will allow myself to say that the ambitions and dreams came true.
<![if !supportEmptyParas]> <![endif]>
Among Walt Disney's great personal merits for his production of cartoons, was the constant drive for producing increasingly better cartoons. Money meant to him primarily funds to invest in the company, which then added in a position to pursue the goals he had set for the development of the cartoon medium. His ambition was high, especially in relation to the cartoons, which others and he even produced in the late 1920s and the first years of the 1930s. But shortly before production of the Snow White film, which began in 1934, launched Disney a training program which was actually set on the printer in the famous 8-page letter dated  December 23, 1935 from Walt to the academic artistic supervisor, Don Graham, which would prove to give particular his creative staff, a strong lift in both artistically and technically. This lift came first the Snow White movie for good, but also came to influence the subsequent long and short cartoons. Thus, it is clear to all expert that there was a significant change in quality and improved standard of Disney short cartoons from 1935 onwards, as was also the case with the feature films, which already appears in the "Pinocchio" and "Fantasia", both from 1940.
<![if !supportEmptyParas]> <![endif]>
Walt Disney himself stopped up early to draw and animate, he actually stayed up with it during the production of the "Alice in Cartoon Land" series, leaving these functions to its closest trusted employees, after which he concentrated on the films' production and distribution. But in his younger days and years to come, he was, in addition to being production manager, even active as an inspiration and mentor, particularly when it came to story and storyboards, just as he personally could act and characterize cartoon character's character and behavior pattern. It is also known that he from the start of Mickey Mouse series and some years to come, was even putting falsetto voice of Mickey.
<![if !supportEmptyParas]> <![endif]>
Walt Disney was so much more than the filmmagnate as envious and opponents would make him. And his efforts and importance as producer of animated cartoons is adventurous and unique. From a modest start in Kansas City in 1919, where Disney as only 18-year-old together with among others his first creative collaborator, Ub Iwerks, produced the so-called "Laugh-O-Grams", he ran - from 1923 along with his brother Roy Disney, who in particular, served as economic advisor - the company "Disney Brothers, Inc." on Kingswell Avenue in Los Angeles and up to the famous company "Walt Disney Studios" with the address of Hyperion Avenue on Sunset Boulevard, also in Los Angeles, and from there to the arguably even more world famous cartoons enterprise "Walt Disney Productions" on Buena Vista Street in Burbank, North Hollywood.
<![if !supportEmptyParas]> <![endif]>
<![if !vml]>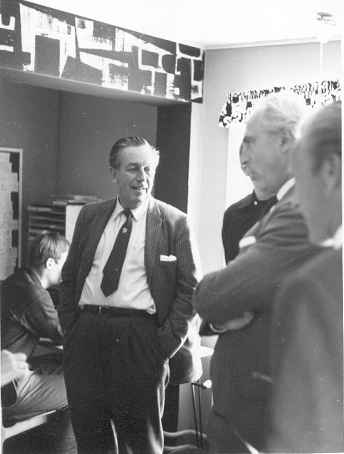 <![endif]>
A great day: Walt Disney payed in July 1959 a visit to the A / S Nordic Cartoon Films on Mosedalvej in Valby. Here is Disney with follow in the studio, where Anton Fredsøe, Antti Peränne and I, Harry Rasmussen, sat and worked. It is of course Disney in the center of the image to the left of Walt Disney, seen Anton Fredsøe sitting at his drawing desk, while hand of the lower left belongs to me, Harry Rasmussen, who faces Disney and participate in the conversation. To the right is the director of the Metropol Theatre and Mickey Mouse Corporation of Denmark, Jørgen Jørgensen, and the Director of Nordisk Film Junior, Ove Sevel. Behind Jørgen Jørgensen discerned Ib Steinaa (in dark shirt). - Photo: © 1959 Paul Dupont.
<![if !supportEmptyParas]> <![endif]>
When in the above photograph we consider the elderly and relaxed gentleman who stands in front of and with hands deep in his pockets, one would not think that it's the world famous cartoon king Walt Disney. But it is the words, and he was also very easy to talk to, and even though I was an insignificant little Danish cartoonist and animator, so he turned also to me because he wanted to know what it was I was drawing on lighting desk. It should not be repeated here, for I have told about the cartoon story, see Danish Cartoons 1950-1970 Part 2.
<![if !supportEmptyParas]> <![endif]>
But as said, at the age of a 10 years old fan of animated cartoons I did - of course - not think there was a large staff of creative and reproductive employees behind the Walt Disney cartoons. Strangely, for just a little knowledge and care about the making of an animated cartoon, would indeed have been able to tell me - and others - that it was obviously impossible for one man to produce even a short animated cartoon, which of course also be produced in the course of a profitable time if you had to live on. The fact was and is that there was a staff of about a dozen creative men and a number of inkers and painters, plus the technical staff behind the production of a short animated film about. 8-10 minutes. And the long cartoons required of course an even larger staff of both creative, reproductive and technical people who all had ROUP nails, to comply with the production time of about 3 years for the long cartoon case.
<![if !supportEmptyParas]> <![endif]>
Disney's creative people
It was not until sometime in the 1950s when I even returned as a professional animator and later on as animation director that I really began to interest me for who basically stood behind Disney's short as well as long cartoons. It was so successful that after the great general strike at Disney Studios in 1941, there was introduced credits for the work of the creative staf behind him. In the long feature cartoon films there had of course been credits in films ever since the Snow White film, but eventually were added more and more features, which should also have the name of the film's credit lists, somewhat the employee unions favoured contractual requirements. This led eventually to that came so many names on the films that no mother's soul had the time or bothered to read them.
<![if !supportEmptyParas]> <![endif]>
This situation changed in 1970'-80's when there was a number of books about Walt Disney cartoons in the market, and thus could usually read about some of the more striking employees at Disneys, just as in the 1980s, when the video became common and the Disney films began to appear on VHS, could read credits on the films. It is the names of supervising directors, sequence directors, story adaptators, storyboarders, character designers, supervising animators, directing animators, animators, and also the names of art directors, production designers, layouters, background painters and others Later, most of the Disney cartoons, short and long, were available on DVD and latest on Blue Ray.
<![if !supportEmptyParas]> <![endif]>
On a long cartoons like "Snow White and the Seven Dwarfs" was a fairly large staff of both creative and especially reproductive employees. To take the names of the creative team in the above-mentioned professional order so was David Hand supervising director, sequence directors were Perce Pearce, Larry Morey, William "Bill" Cottrell, Wilfred Jackson, Ben Sharpsteen. Story adaptators was Ted Sears, Otto Englander, Earl Hurd, Dorothy Ann Blank, Richard Creedon, Dick Rickard, Merrill De Maris, and Webb Smith. Art directors were Charles Philippi, Hugh Hennesy, Terrell Stapp, McLaren Stewart, Harold Miles, Tom Codrick, Gustaf Tenggren, Kenneth Anderson. Kendall O'Connor and Hazel Sewell. Character designer was Albert Hurter and Joe Grant. Backgrounds were created by professionals like Samuel Armstrong. Mique Nelson, Merle Cox, Claude Coats, Phil Dike, Ray Lockrem and Maurice Noble for. Supervising animators were Hamilton Luske, Vladimir "Bill" Tytla, Fred Moore and Norman Ferguson. The fantastically talented team of animators were: Frank Thomas, Dick Lundy, Art Babbitt, Eric Larson, Milt Kahl, Robert Stokes, James Algar, Al Eugster, Cy Young, Joshua Meador, Ugo D'Osi, George Rowley, Les Clark, Fred Spencer, Bill Roberts, Bernard Garbutt, Grim Natwick, Jack Campbell, Marvin Woodward, James Culhane, Stan Quackenbush, Ward Kimball, Wolfgang "Woolie" Reitherman and Robert Martsch.
<![if !supportEmptyParas]> <![endif]>
For the Disney short cartoon in the 1930s there was only Walt Disney's own name on the films, so there were no credits to the artists who had put creativity and effort to include the glorious short cartoosn I saw in the Metropol Christmas Show 1939. But later, however, it managed to track down the names of who were directors, animators and background painters at the movies. That I found out the names of the Disney short films before 1942 due in part to the Danish-Dutch animator and director Hans Perk, which have particularly been interested in the production of Disney's long as well as short cartoons dating back to the 1920s to present. In advance, I knew that some of Disney's earliest creative staff was people like Ub Iwerks, Carmen "Max" Maxwell, Ham Hamilton, Hugh and Walker Harman, Lorey Tague, Otto Wall Iman, Rudolph Ising and Fritz Freleng.
<![if !supportEmptyParas]> <![endif]>
Later - around 1927 - came Wilfred Jackson, and when the sound film just had been introduced at the time, he suggested that they used a metronome to time (time measurement) animation of cartoon characters' movements so that it is not, as before, was left to individual animators' own sense of movements, speed and duration. That same year, 1927, came Les Clark and Johnny Cannon to as animators. Disney and Jackson worked both as directors of the films. 1928 Bert Gillett and a year later Jack Cutting, and the same year musician Carl Stalling became employees as a composer and conductor.
<![if !supportEmptyParas]> <![endif]>
1930 both Iwerks and Carl Stalling left Disney, Iwerks to work as an independent cartoon producer and Stalling to become musical director of Warner Brothers' cartoon series Looney Tunes - Merry Melodies, a cartoon series, which incidentally was started by Hugh Harman and Rudolph Ising. Instead, Disney employees Bert Lewis became musical director. For the rest Iwerks turned in 1940 back to Disney, he went to work as a special effects innovator and as such he developed include the Xerox Camera and the Matte process, the latter was used in the production of "Mary Poppins" (1964). Iwerks worked for Disney until his death in 1971.
<![if !supportEmptyParas]> <![endif]>
In order to start production of long cartoons, there was, in addition to those already mentioned above, during the 1930s a great many new talents to Disney: animators, art directors, story, designers, layouters, background painters, etc. Among these names include significant people like - listed alphabetically - James Algar (animator), Kenneth "Ken" Anderson (art director), Samuel Armstrong (background), Arthur "Art" Babbitt (animator), Ford Beebe (assistant director), Mary Blair (art supervisor) Preston Blair (animator), James Bodrero (character designer), Jack Boyd (animator), Homer Brightman (story), Jack Campbell (animator), Robert "Bob" Cannon (animator), Robert "Bob" Carlson (animator), Claude Coats (background), Tom Codrick (background), Robert Cormack (art director), Merle Cox (background), Marc Davis (animator), Al Dempster (background), Philip Duncan (animator), Andy Engman (animator), Al Eugster (animator), Norman Ferguson (animator), Frank Follmer (animator), Hugh Fraser (animator), Clyde Geronimi (sequence director), Joe Grant (character designer), T. Hee (sequence director), John Hench (background), Hugh Hennesy (art director), Jimmie Hess (indtruktørassistent), Dave Hilberman (layout), John Hubley (art director), Dick Huemer (animator), Ray Huffine (background), Kenneth "Ken "Hultgren (animator), Al Hurter (character designer), Ollie Johnston (animator), Bill Justice (animator) Milton" Milt "Kahl (animator), Dick Kelsey (art director), Ward Kimball (animator), Jack Kinney ( sequence director), Eric Larson (animator), Gordon Legg (animator), John Lounsbery (animator), Dick Lundy (animator), Don Lusk (animator) Hamilton "Ham" Slink (supervising animator), Brice Mack (background) John McDermott (animator) Daniel "Dan" MacManus (animator), Albert Hay Malotte (layout), McManus (animator), Joshua Meador (animator), Fred Moore (directing animator) Larry Morey (sequence director), Grim Natwick (animator ), Charles Nichols (animator), Lance Nolley (art director), Kenneth "Ken" O'Brien (animator), Kendall "Ken" O'Connor (art director), Art Palmer (animator), Don Patterson (animator) Ray Patterson (animator), Bill Peet (story), Erdman Penner (story adaptator), Charles Philippi (art director), Elmer Plummer (story, character designer), Thor Putnam (layout), Stan Quackenbush (animator), Wolfgang "Woolie "Reitherman (animator), Art Riley (background), Bill Roberts (animator), Archie Robin (animator), George Rowley (animator), Paul Satterfiels (animator), Milt Schaffer (animator), Retta Scott (animator), Ted Sears (story adaptator), Hazel Sewell (art director), Ben Sharpsteen (sequence director), John Sibley (animator), Webb Smith (story adaptator), Fred Spencer (animator) Gerorge Stallings (story), Terrell Stapp (art director) , McLaren Stewart (art director), Bob Stokes (animator), Gustaf Tenggren (art director), Frank Thomas (animator), Riley Thompson (animator), Harvey Toombs (animator), Vladimir "Bill" Tytla (animator), Don Williams (animator), Cornett Wood (animator), Marvin Woodward (animator), Ralph Wright (story), Cy Young (animator), Al Zinnen (art director). But of course there were many other and more names, each of which contributed to the production of Walt Disney short cartoon as well as long cartoons.
<![if !supportEmptyParas]> <![endif]>
A significant portion of the above mentioned creative employees, worked for Disney in many years, some throughout the rest of their lives. Therefore the Disney Studios hardly could not have been such a bad job, as some critics have sought to argue that these were, and it was certainly not all employees who agreed with the criticism. That some of the one or other reason, or become dissatisfied, is inevitable, it seems at any workplace around the world. Criticism of Disney went among other things on his 'authoritarian' and patriarchal leadership style, but you missed the great and indispensable creative and inspirational significance Disney personally actually had in  the studios right up until his death in December 1966. But if the production of Disney cartoons should have been settled and determined through the so-called employee-democracy, I doubt that the films would ever have been made. And I think that many people other than me would have been really sad, quite apart from the cartoon art and the story of cartoons would have been poorer.
<![if !supportEmptyParas]> <![endif]>
The "Bible" of the Art of animated Cartoons
Moreover led Disney's plans and initiatives to continually improve and develop its creative staff at all levels and planes of production, to which were gradually established a set procedure for the production of cartoons, not least for feature-cartoons. For many years it was a mystery to all sorts of cartoon people how Disney and his staff went about to create as lifelike character figures, as was the case and in any case relatively quickly. This was actually already 'revealed' in the book "The Art of Walt Disney," written by Robert D. Feild and published 1942. Later, several other books, each in its own way helped to give an impression of the work going on at the Disney's Studios, one of these books were for example the bulky "The Art of Walt Disney - From Mickey Mouse to The Magic Kingdom", authored by Christopher Finch and published 1975. But the book of all books about the procedures that were followed during the production of especially the long Disney cartoons - the so-called Animated Features - is "Disney Animation. The Illusion of Life ", written with great personal insight and love of the two now late Disney veterans Frank Thomas and Ollie Johnston, both of which themselves belong to the category of animators at the highest level, animation artists of a rarely seen format. These two gentlemen were also just in the process of organizing the book when I in the summer of 1977 visited the Disney Studios and had the opportunity to talk to them, who both friendly and welcoming to little me from the little country in the far north, as Woolie Reithermann felt sorry for, because in his view, it had been corrupted by socialism and pornography!
(See about this in the section: A visit to the Disney Studios in Burbank 1977).
<![if !supportEmptyParas]> <![endif]>
The said and highly interesting and fascinating book was published in 1982 and was immediately a hit with all sorts of cartoon people with ambitions and dreams about making 'classic' cartoons with 'classical' animation. Yes, the book was actually a kind of "Bible" for many because it showed in detail and reviewed the procedures which for generations had been used in "The Sorcerer's Workshop" in Hollywood. Also here at home was their most memorable artistic advice and technical instructions followed to the extent that this was possible - Economy and talent taken into account.
<![if !supportEmptyParas]> <![endif]>
It was especially the very ambitious, enthusiastic and talented people at A-Film, which also had learned a thing or two by Jeff Varab, former key animator at Disney, but who was now living in Denmark and learned from him for talented, inquisitive and ambitious young artists, several of whom later had occurred within the Danish cartoon production. Even Jannik Hastrup, Danish cartoon's original and sovereign cartoon artist whose ambitions of cartoons went in a somewhat different direction, got use to those people during the production of its own long cartoons. But as an employer and instructor he understood - but not always easy and simple - to keep a low profile and fit the individual work of each cartoon into a whole. This resulted in the outcome of several interesting and greatly seeing long cartoons.
<![if !supportEmptyParas]> <![endif]>
"The Brave Little Tailor"
As mentioned in the introduction, there were mainly three cartoons in the Metropol's Christmas Show 1939, which I personally made especially appreciated, and it was - and still is - "The Brave Little Tailor", "Ferdinand The Bull" and "The Ugly Duckling" . As regards to the former cartoons, so was Bert Gillett its instructor, while Fred Moore was responsible for the animation of Mickey and Bill Tytla for the animation of the giant. But both were assisted by the following many animators: Don Patterson, Milt Schaffer, Les Clark, Ollie Johnston, Frank Thomas, Riley Thompson, Jack Campbell, Don Williams, John Tucker, Andy Engman, Frank Follmer, Cornett Wood, Art Palmer, George Rowley, Archie Robin and John McDermott. As well story, design, layouts, backgrounds, instructions as animation are of the highest caliber, which makes this film one of the jewels in the long chain of short bead-cartoons, Disney Studios produced in the 1930.
<![if !supportEmptyParas]> <![endif]>
Among those employee names on this glorious short cartoons were especially animators Fred Moore, Bill Tytla, Les Clark, Ollie Johnston and Frank Thomas almost world-famous for their great talent and animation art, not only on this one short film, but more such and especially on a wide range of Disney's long cartoons.
<![if !supportEmptyParas]> <![endif]>
"Ferdinand The Bull "
In the short film "Ferdinand The Bull" the credit list is as follows: Direction: Dick Rickard, assistant director: Ford Beebe. Layout: Ken Andersen and Thor Putnam, and the animation was in the hands of the following names: Hamilton Luske, Milt Kahl, Bob Stokes, John Bradbury, Stan Quackenbush, Jack Campbell, Ward Kimball and Don Lusk. Here the names as Art Director Ken Anderson and animators Hamilton Luske, Milt Kahl and Ward Kimball, who later became world famous, at least among cartoon people and cartoon fans.
<![if !supportEmptyParas]> <![endif]>
"The Ugly Duckling"
In this gem of a cartoon that does not really have much else than the title in common with Hans Christian Andersen's fairy tale of the same name, was the plot written by George Stallings, while the film's direction were carried out by Jack Cutting and Hamilton Luske, with Jimmie Hess as his assistant. For Layouts stood Albert Hay Malotte and Dave Hilberman. The animation was in the hands of the following names: Eric Larson, Stan Quackenbush, Riley Thompson, Archie Robin, Milt Kahl, Paul Satterfield, and Gordon Legg. For these people this movie was especially Eric Larson and Milt Kahl highly valued by people with sense of cartoon art.
<![if !supportEmptyParas]> <![endif]>
But as said, I could for that matter just as well have referred to the three other short cartoons that were on the program in the Metropol's Christmas Show at Christmas 1939, because these films, and many both before and subsequent to those are all further details worth. But here I chose to only mention three of the films, which is part of the reason for my lifelong enthusiasm, yes, I will even allow me to use the word love, to Disney's short as well as long cartoons. Something which I already long since have expressed on the website http://tegnefilmhistorie.dk . See about this in the section DANISH CARTOONS 1970-1980, where I mention my unforgettable visit to Walt Disney Studios in Burbank in the summer of 1977.
<![if !supportEmptyParas]> <![endif]>
© 2014by Harry Rasmussen.
<![if !supportEmptyParas]> <![endif]>
****************
<![if !supportEmptyParas]> <![endif]>