CAME TO DENMARK
 
<![if !supportLineBreakNewLine]>
<![endif]>
It is difficult to ascertain when the first animated cartoons were shown in Danish cinemas. But the audience became acquainted with this particular film genre already in the first two decades of the 20th century. It came through the usually weekly foreign Newsreels or weekly Film Revues. Such newsreels, which was produced by example. Gaumont and Pathé, were included in most foreign and Danish cinema standard repertoire, and served as part of the time news coverage. (Note 1)

A Newsreel consisted generally of various short films and began mostly with the most significant news, ie. events that had taken place for more than a week ago. Then came a film about any sport or athletic performance, so a nature film and a film about the different places worth seeing in the world, and finally ended the program with a comical film. As conclusion a film that could be a farce with one or several of the famous film comedians, but it could very often be a cartoon that amused both children and the young at heart.

During the two world wars were the belligerent countries newsreel films as well as films and cartoons to a significant extent used as a propaganda service, and the same was true to a certain extent also for the weekly Film Revue's cartoons. (Note 2)
In the United States there were in the 1910s and 1920s several independent production of entertainment and advertising cartoons, but in the late 1920s and during the 1930s was such that most major American film companies created each their own department for the production of cartoons. There was, first and foremost, Universal Pictures, Paramount and Columbia Pictures, but Warner Brothers, MGM and 20th Century Fox soon followed with. (Note 3)
The short animated film that Walt Disney Studios in Hollywood produced in the 1920s , was the oldest of the films he distributed by Winkler Pictures and later by Universal , but after a copyright controversy in 1928 , accounted Disney contract with the film company Columbia. The contract expired in 1932, after which Disney contracted the United Artists that had Chaplin as co-founder and co-owner. In 1937, Disney switched to RKO , which in the following years was the distributor of Disney short as well as long cartoons. The first long Disney cartoons that were distributed through the company was " Snow White and the Seven Dwarfs ." (Note 4)
As previously mentioned, the short entertainment cartoons were already known by both the American and European audiences from the least about 1916 and throughout the 1920s and 1930s. Many moviegoers - and probably especially children crowd – were undoubtedly familiar with "Colonel Heezaliar", "Farmer Al Falfa," "Krazy Kat" and "Ko Ko the Clown" whose merits the world's moviegoers were able to see and laugh at since the beginning of the these cartoon series began in 1914 -1917. But the popularity applicable probably even more so in 1920s most famous cartoon series with Felix the Cat ("Katten Felix"), which even became a model for Walt Disney's Oswald the Lucky Rabbit ("Oswald den lykkelige kanin") and maybe even in higher degree for his "Mickey Mouse". The latter showed great vitality and outperformed virtually the mentioned series, but it did in the 1930s get some competition by Max Fleischer's "Betty Boop" and "Popeye" ("Skipper Skræk").

But the cartoon genre did not get seriously into Denmark or more precisely to Copenhagen untill theaters as "Kinografen" and "Metropol" in 1934 began to show an overall program of Disney's animated short films. It has not been possible to determine whether Kinografen has shown its "Cheerful Show" before 1934 , nor whether similar shows occurred in other Danish cities.
It is believed that the idea to show an overall program of short Disney cartoons was first practiced in Stockholm or Uppsala in 1933. It was a Swedish theater director who had the good idea to gather a total of six short Disney cartoon of Mickey Mouse series and the Silly Symphony series and show them as a one-hour show. So far, each short of the cartoons mentioned have so far only been shown as movie trailers for films or they were included in the weekly newsreels, but as the Disney brothers learned that the Swedish cinema had been very successful in showing an overall program, they realized that the idea was worth picking up and control yourself. Walt Disney Studios was then, as later, right up to the 1970s in constant lack of money, and it was therefore necessary to exploit the resources of the cartoons they already had in stock, as much as possible.

Kinografen's leadership called its Disney short film program "Kinografen's cheerful Show," which was shown in March 1934. Metropol called its Disney short film program "Metropol's Spring Show," and repeated from the same July the success with the annual "Metropol's Christmas Show". Kinografen gave apparent competition, leaving voluntarily or involuntarily for Metropol to have both a Spring Show and a Christmas Show. The program consisted in both cases of 6 older and newer short Disney cartoons.

"Kinografens cheerful Show," which was shown in March 1934 contained six short Disney cartoons, of which I only have managed to identify the following four: Babes in the Woods (" Hans and Grete" . Silly Symphony No. 32 , 1932) , The Mail Pilot ("Mickey som pilot." Mickey Mouse series No. 56 , 1933 ) , Father Noah 's Ark ("Noah's Ark". Silly Symphony No. 35 , 1933 ) , Lullaby Land ( "I Drømmeland." Silly Symphony No. 38 , 1933). The two here lacking cartoons are still not managed to identify.

It is also not possible to identify the Disney cartoons in "Metropol's Spring Show" in 1934 included, but of the six films that were shown in "Metropol's Christmas Show" in 1934, the five has been identified : The Night Before Christmas ("Juleaften." Silly Symphony No. 40, 1933), Playful Pluto ("Legesyge Trofast." Mickey Mouse Series No. 65 , 1934), Gulliver Mickey ("Mickey i Lilleputternes Land." Mickey Mouse Series No. 66 , 1934), The Grasshopper and the Ants ("Den dovne græhoppe" . Silly Symphony No. 42 , 1934) and The big bad Wolf  ("Rødhætte, ulven og de tre små grise." Silly Symphony No. 44 , 1934). The lack of two cartoons has been a failure to identify.
Mickey Mouse became known as the cartoon in Denmark in 1931. The series was then as full page in "Sunday B.T." from No. 5 that year. From  April 18, 1934 it could be seen as everyday stripe in the morning newspaper "B.T." under the name " Mikkel Mus". It is not known when the first Mickey Mouse cartoon was shown in Denmark. See later below on data and fatum of this world famous cartoon character.

1934 debuted the character who would eventually come to outrank or refer the good-natured, helpful, always just and moral Mickey Mouse for second place , both as an animated cartoon character and as a cartoon character. It is about Donald Duck (Anders And), which first appeared as insignificant extra in The Wise Little Hen ("Den kloge lille høne." Silly Symphony No. 45 , 1934) . But the choleric and usually always unfortunate "movie hero", Donald Duck, we Danes first learned to know in the "Metropol's Spring Show" in April 1935, when he appeared in films like Orphan's Benefit ( "Mickey som teaterdirektør." Mickey Mouse Series No. 68 , 1934) and Mickey's Grand Opera ( "Den magiske tophat." Mickey Mouse series No. 82, 1935) .

As a comic series began "Donald Duck" in Denmark in the weekly magazine "Danish Family Magazine" (Dansk Familieblad) No. 49 on 4 March 1935 , ie before the audience had the opportunity to see him in Metropol's Spring Show 1935. Unless "The Wise Little Hen" was shown in Kinografen's or Metropol's Spring or Christmas show 1934.

However, Metropol discontinued its Spring Show in 1939, but continued each year at Christmas time with its very famous Christmas Show, which for many years was a huge draw for the city's children and the young at heart. Metropol's annual Christmas show came to an end only when the cinema had to close for good in 1982. But under the name "Disney's Christmas Show" the short film programs continued in the following years in other theaters across the country.

The animated cartoon was really having its breakthrough as a genre that tolerated comparison with the "real" movie, in and with the world's first long entertainment cartoon movie, Walt Disney Productions' Snow White and the Seven Dwarfs (1937, Feature No. 1 "Snehvide og de syv Dværge"). This film was a formidable audience hit that very few if any "real" films ever have generated similar to in the 20th century. The film cost 1.7 million dollars to produce, but already at its initial appearance (release) earned the sum of 8.5 mill. dollars.

Before its Danish premiere the Snow White movie has been translated into Danish at Nordisk Film in Valby. Director of the Danish version was George Schneevoigt, and they had engaged two of Danish oprettas and operas prominent singers, operetta singer Annie Jessen, who recorded the Danish voice and singing voice of Snow White, while the Danish Royal opera singer Marius Jacobsen recorded the Danish voice and singing voice of the Prince.
The Danish actors who voiced the Wicked Queen, Witch or dwarfs, was none other than Clara Pontoppidan, who placed her wonderful voice to both the Queen and the Witch. For the dwarfs it was: Alfred Arnbak (Happy), Carl Fischer (Bashful), Aage Foss (Sneezy), Sigurd Langberg (Grumpy), Valdemar Lund (Sleepy), Victor Montell (Doc). One source believes, however, that Svend Bille, Rasmus Christiansen and Albert Luther also did dwarfs voice work, but I have not managed to verify this. (Note 5)
"Snow White and the Seven Dwarfs" had Denmark Premiere at Palads Theatret (The Cinema Palace Theatre) in Copenhagen on  september 29, 1938. Initially was shown the short film The Old Mill (1937, "Den gamle Mølle"), which was special in that here was for the first time shown that Disney had used some form of multi-plane footage in some of the scenes. But Max and Dave Fleischer had already at that time used the multiplane technique in some of their short cartoons. (Note 6)
Since October 1923 had Disney Bros.. Studio as the cartoon company originally was called, has been housed at Kingswell Avenue in Hollywood. But with a growing team of people, it was necessary to expand and in July 1925 bought the Disney Company, therefore, a plot of Hyperion Avenue south of the large nature reservation Griffith Park, where there initially was built a new and large building. The move took place in February 1926 and the company changed its name to Walt Disney Studios. Here let the Disney brothers in the years after the construction of several buildings and outbuildings, as production increased and its staff therefore grew. But especially during the production of "Snow White", which lasted from 1934 to 1937, was the available space so cramped on the studio that you might look for more space. Since it was not possible to construct more buildings or extensions to Hyperion-lot, you had to find a different and more comfortable ground where it would be possible to establish a new and modern studio.
It is worth noting that it was in the studio on Hyperion Avenue that now classic short Disney cartoons as the Mickey Mouse series and the Silly Symphony series, were created. It was also here that produced the world's first commercial long cartoon, Snow White and the Seven Dwarfs (1937), and here, they started the next three large cartoons, Pinocchio (1940) Fantasia (1940) and Bambi (1942). (Note 7)
But on the basis of the profits from the proceeds of "Snow White and the Seven Dwarfs", Disney let from August 1938 to August 1939 start a construction of a new studio complex on a large lot, which was located on Buena Vista Street just north of Griffith Park in the suburb of Burbank in the North East Hollywood. This continued the vastness production of short and long cartoons, but the loss of the world market because of the world war and the fact that the next three long cartoons, Pinocchio, Fantasia and Bambi at first release was not any popular success in the domestic market, brought the company to bankruptcy because you eventually had a debt to the Bank of America at 4.5 million. dollars. The three films had cost respectively 2.6 million dollars, 2.2 million dollars and 1.7 million dollars to produce.
In addition came the situation that many of the Disney employees over time had accumulated a certain irritation, resentment and even anger over his patriarchal staff and wage policies. They demanded higher wages, overtime pay and greater artistic freedom, which Disney indignantly rejected, why movies employees' union, Screen Cartoonists Guild, were drawn into the picture. This led to an approximately five-month strike from May to September 1941 which ended with that Disney extremely reluctantly felt obliged to let his brother Roy Disney (1893-1971), who was the company's administrative manager and legal counsel, Gunther Lessing, enter into an agreement with the hated unions. That said, it was only three hundred of the studio's total of 900 employees who directly participated in the strike.
One result of the bitter strike at Disney's was that a number of artists got their dismiss or even chose to go. Among them was Steven Bosustow (born 1911), who in 1945 created the United Productions of America (UPA), which with several former Disney employees in the following years would be a serious artistic and partly economic competitor to Disney's reputation as "king of film animation".
But like Disney from bitter experience had long ago learned that he would never allow the rights to his films leave him, so he realized also that it would be better and safer for his film production, the distribution and hence rental mm. of these, was directed by his own rental company. This company was named Buena Vista Company, named as it is for the street or road, Buena Vista Street, where Walt Disney Productions' studioes have been located since 1939. The company was later as a subsidiary called Walt Disney Pictures, which especially distributes and rents out its cartoons. (Note 8 )
However, there was another and for a transitionary time very important American animation pioneer who did what he could to make Disney rivaling as a producer of short as well as long cartoons. It was Max Fleischer, who along with his brother, David Fleischer, established himself in the cartoon industry already in 1915. Since 1916, the brothers Fleischer produced a variety of short cartoons , starting with Out of the Inkwell, who introduced the Koko the Clown, who was rotoscoped on the basis of live action footage with Dave Fleischer. Koko the Clown was surrounded by a variety of grotesque cartoon characters, of which especially the dog Bimbo played a prominent role in the long series of Koko cartoons that came in the years 1925-30. It was, however, soon put aside to rotoscope Koko's movements and drew and animated them freely, such as the case of course was also with the film's other characters.
<![if !vml]>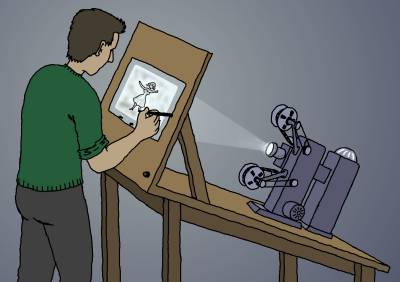 <![endif]>
The Rotoscope is a kind of drawing desk with rear projection of live action filming. When projecting the footage in single images, one can model the images on the drawing desk. Drawing by Jacob Koch. © 2005 History of Danish animated Cartoons.
The dog Bimbo quickly became a significant competitor for Koko on cinema-goers' favor, and in 1930 he received a partner in the guise of a vampy bitch, though most of all looked like a woman with dog ears. After appearing in several cartoons the female dog's ears were in 1932 changed into a pair of earrings, just as she changed her appearance and became more slams and coy. On that occasion, she was named Betty. In 1932, Betty Boop, as she thereafter was called, her own cartoon series which ran until 1939 and included a total of 89 short animated films, which were immensely popular worldwide with perhaps especially the male audiences who cheered at Betty's famous highpitched and sexy voice especially when she is as a precursor to the later equally famous movie vamp, Marilyn Monroe, uttered her " Boop - Oop -A- Doop " .

However, given Betty Boop fierce competition, when the brothers Fleischer in August 1933 allowed her to introduce the then already well-known cartoon character Popeye the Sailor, the Danish "Skipper Skræk". The figure was since 1929 concluded in cartoonist Elzie Segar's comic strip Thimble Theatre in 1919 , the protagonist was originally Olive Oyl, the Danish "Olivia" but soon was reduced to being the girlfriend of the spinach-eating super-sailor. The series was on that occasion renamed Thimble Theatre - Starring Popeye, later changed to simply Popeye. Both as the comic book and cartoon series was Popeye a long and eventful life in the newspapers and magazines and also on the silver screen and later on all sorts of TV screens. In the brothers Fleischer's time in the years 1933-40 were produced a total of 35 Popeye shorts and three so-called two-reel features, namely Popeye the Sailor meets Sindbad the Sailor (1936) Popeye meets Ali Baba and his forty Thieves (1937) and Aladdin an his wonderful Lamp (1939).

A few years later, the brothers Fleischer also liked to convert another known and more serious comic hero to the cartoon character, Joe Shuster and Jerry Siegel's Superman in 1938, which could be seen in theaters by the end of September 1941. The films, which, like other brothers Fleischer cartoons, was directed by Dave Fleischer, came to span an array with a total of 19 films that were produced in the years 1941-44, that is, during World War II. The films were therefore naturally turned against dictators and people of the West as well as in the East, who would fight or undermine American society and its values.
However Fleischer brothers also tried to compete with Disney in the feature film area, but here, they did not have the kind of succes with the theatre public as he did. It was the Snow White film's fairytale success that in 1938, that got Paramount to propose Fleischer brothers to make a similar film. To this end, the company invested in a new studio in sunny Florida, more precisely in Miami on NW Seventeenth Street, where acquisition of a 32,000 m2 plot. It was in 1938 built around a building at ground level, were closing around a large inner courtyard (patio). 200 employees from New York came with and settled in Miami, since it half a year later, took the new Fleischer Studios in possession and here sat the long cartoons in production which had been prepared while they were still in New York.
But also at Fleischer Studios in New York had in 1937 been experiencing a prolonged and bitter employee strike, due to some internal negotiations for better wages and working conditions were at an impasse. The animators had individual contracts and got under the applicable agreements with Fleischer between 30 and 100 dollars a week in wages, while other employees who worked in a piece system was from 15 to 27 dollars a week. It was a large group of disgruntled employees to join the Commercial Artists 'and Designers' Union (CADU) and since 15 of these employees were fired, said the union strike against the Fleischer Studios. The strike lasted for six months from May to October, where the management agreed on a treaty that gave the striking increase in salary. The non-strikers animators were given higher wages to prevent them from joining CADU and there were also put pressure on the employees who were not yet members of the union.
However wondered many of Fleischer employees the fact that the Fleischer brothers, who had complained that they could not afford to pay higher wages than they were, after all could afford to invest the tidy sum of $ 300,000 in the new studio. But how now than it remained with the economy, so did Max and Dave Fleischer select Jonathan Swift's Gulliver's Travels ("Gulliver's Rejser") as the subject of their first long cartoons, and here was one of the great need of Max's invention in 1915: the rotoscope. First of all for the animation of the main character Gulliver and then also to the serious characters Prince David and Princess Glory, which of course have to move like real people. Otherwise with the comic and grotesque figures Little King, King Bombo, the three spies Snoop, Sneek and Snitch, and the watchman Gabby and the carrier pigeon Twinkletoes.
It took 18 months or one and a half year to produce Gulliver's Travels, which had its world premiere  December 18, 1939, and it became a great success and a fairly good reviewer success. The film was entitled "Gulliver's Rejse til Lilleputternes Land" Denmark Premiere, more precisely Copenhagen Premiere, in the spring of 1940, shortly after the German occupation, which took place on  April 9 of that year.
The success of the Gulliver movie, gave Fleischer brothers want to try to produce another long cartoons. Its protagonist is a grasshopper, called Mr. Hoppety, and the action takes place among grasshoppers and other insects that live just outside of New York, but later moved into the big city. As well as the title action brought some inspiration from Frank Capra's movie Mr. Deeds Goes to Town (1936, "En gentleman kommer til byen") with Gary Cooper in the lead role. Fleischer brothers called their films for Mr. Bug Goes to Town ("Mr. Hoppe kommer til byen"), and it premiered in December 1941. Yet despite the film in almost every respect was technically better, including particularly a qualitatively much better animation, better and smarter handling time and quite modern music (by Leigh Harline) than in any of Fleischer's other cartoons, the Gulliver film included, was "Mr.Bug Goes to Town" both a critic and audience flop. After Japan's devastating flying attack on the naval base of Pearl Harbor December 7 same year, and America's subsequent declaration of war against Japan, the Americans had been something more serious things to think about than movies and cartoons. Consequently failed public cinemas showing the film, which meant ultimately nothing less than an economic disaster for the Max Fleischer Studio, which simply went bankrupt with a huge debt and had to close in late 1942. (Note 9)
Max and Dave Fleischer's first long cartoon, " Gulliver's Travels " was mentioned as have had Denmark premiere in 1940, shortly after the Germans had occupied the country. In Copenhagen it was initially shown in the Metropol Theatre, and here the film was well received, especially by the audience, which of course mainly consisted of children. Later the film was shown also around the province.
"Snow White" and "Gulliver's Travels" was so far the only two long cartoons that had been shown in Denmark before and during the German occupation of the country from  April 9, 1940 to May 4, 1945. In contrast, it was still possible to see Disney as well as Fleischer short cartoons in the country's cinemas, of which the former of Copenhagen mainly was shown in conjunction with the annual " Metropol's Christmas Show " at Metropol Theatre and the latter primarily be seen in the DSB Kino at Central Station (Hovedbanegårdens Kino). But the cartoons that were shown during the occupation were almost all regulars, under which so far was import ban on recent American films and cartoons.
It was in this cinematic 'interregnum' during the period of german occupation, the Danish film as a whole had a unique opportunity, subject to production difficulties. But from 1941 until 1944, total Danish production of feature films ascended by about 30%. It was also during this period that the creation of a new Danish film company, Danish Paint and Animation Inc. (Dansk Farve- og Tegnefilm A / S), with the primary aim of producing animated films, in this case primarily the long animated feature " The Tinder Box " ("Fyrtøjet").
As previously said, it was mostly American cartoons, especially Disney's long and short cartoons from 1930' - 60's which was the inspiration for the vast majority of contemporaries and later European and Danish cartoon people and cartoon productions. Therefore, here we shall round off and finish the mention of American animation production with a brief summary of American cartoons from and long after the war. That is to say from 1945 to the turn of the millennium.
After some turbulent years during and after the war, when Walt Disney Productions gradually again came to its feet economically, continued production of both long and short cartoons. But time was running out for the production of the short animated entertainment, and the long cartoons were eventually become so costly that it was associated with high financial risk to produce these.  An attempt was therefore with a mixture of real movies and cartoons to make shorter production time and thereby reduce production costs.
It began during the war with Saludos Amigos (1943 ; "Vær hilset, Venner"), and continued with The Three Caballeros (1944; "De tre kavallerer"). Then came the Make Mine Music ( 1946: "Spil for mig" ), Song of The South (1946: "Sydens sang"), Fun and Fancy Free (1947 ; "Bongo og Mickey og bønnestagen"), Melody Time (1948 ; "Melody Time" ) and So Dear To My Heart ( 1948).
These films brought Disney's international recognition, however, down on the back burner, the press as well as the audience feared that it was the end of the actual length cartoons that had given Disney a well-deserved reputation as the undisputed king of animated films. But whether it was this fact that made Walt Disney and his team of employees, to restore the restore rate is not known, but in any case, the firm's next production was entirely a cartoon by classic Disney pattern of Ichabod and Mr. Toad (1949), even if the film consisted of two half-hour cartoons: The Wind in the Willows ( "Vinden i Piletræerne") and The Legend of Sleepy Hollow ( "Legenden om Søvnigdalen")
But from then on, Disney turned back to the so-called feature-cartoons ever since "Snow White" had made him and his company world known and liked by both children and adults who are not part of cultural snobbishness.
The new era began with Cinderella (1950; "Askepot"), which achieved a formidable success in numerous countries. The audience just loved Cinderella and the mice, as shown by Tim and Bom made sure that their friend could be appropriately dressed to participate in the prince's ball at the castle.
As the prudent and venture lustful man, Walt Disney all day had been, he realized - and perhaps especially his brother Roy - however, the need to create one or more additional sources of income. In 1948 he began to also produce live-action film, ie . documentaries, and in the series "True Life Adventure", just as his company in 1950 produced his first feature film, "Treasure Island" ("Skatteøen"), after the famous and classic novel by Robert Louis Stevenson.
The latter year Disney debuted also with a show on TV, and in 1954 he signed contract for a weekly "Disneyland" TV broadcasts, which gave him the opportunity to advertise its own future long cartoons. A year later, more precisely in July 1955 opened it since so famous theme park Disneyland in Anaheim in southeastern California. Both of TV broadcasts and the theme park got the audience an opportunity to get acquainted with the "treasure" that Walt Disney Productions possession of and with the string of their elders and older short cartoons that include include "Alice in Cartoon Land" series, "Silly Symphony" series and especially Mickey Mouse series, Donald Duck series and the other animated short cartoon series.
Several of Disney's long cartoons from the 1940s - 60s was nice audience successes, such as Dumbo (1948; "Dumbo"), Cinderella (1950; "Askepot"), Peter Pan (1953 ; "Peter Pan") , Lady and the Tramp (1955, "Lady og Vagabonden") and The Jungle Book ( 1967, "Junglebogen"). But some films was box-related flops. As was the case with Alice In Wonderland (1951; "Alice i Eventyrland") and not least, The Sleeping Beauty (1959, "Tornerose"), which had been six years in the making. On the whole it went for years economically not so good for the long Disney cartoons that criticism usually spoke very little praise on, but what was worse, the audience failed, increasingly, which of course could be measured in ticket revenue. Starting with One hundred and One Dalmatians (1961; "Hund og hund imellem") and the production of long cartoons continued with The Sword in the Stone (1963, "Da kongen var knægt"). Neither of these two films were no immediate blockbuster, which may to some extent be due to the fact that it had gone over to a new and somewhat sketchy drawing style as the large crowd was not nearly as endearing and charming as the style of the old films, and therefore first had to get used to.
Better it went though with the following long cartoons, the company produced, namely, The Jungle Book (1967, "Junglebogen"), and also with The Aristocats (1970; "Aristokattene"), and then tops with Robin Hood (1973). The latter film was almost a draw, at least in Copenhagen.
Disney died on  December 15, 1966 in the middle of the production of "The Jungle Book", which was released in October 1967. He had lost interest in cartoons and declared openly that he was "too old for animation." His last time he concentrated his skills and effort around the creation of his second major theme park project, Disney World in Florida. He died, however, while it was still in the planning stage, after which his brother Roy and other employees had to complete the project.
In the years after Disney's death went gradually downhill with the long Disney cartoons. It was as if the company's script writers, directors and animators had lost some of the spark from the past. Most were eventually come well into old age, and even though new and younger people had come, as the ancients had taught, seemed the films more or less tame and uninspired. Over the years, had its creative people basically tried in all genres of animation media, and the ideas and the animation was getting routine and reused countless times, and it therefore felt a little perplexed about what the future would and should be for the long cartoons. (Note 10)
In this critical situation came Walt Disney Productions also again in a serious bloodletting in terms of creative force, taking place in the late 1970s, as it was in the process of production of the feature cartoon The Rescuers (1977; "Bernard og Bianca"), it happened that a group of 19 people broke out from the company and formed their own animation studio (autumn 1979). The group was led by three second generation Disney animators by name Don Bluth, Gary Goldman and John Pomeroy, of which the first two are also served both as producing, directing animators and directors. Probably to some extent inspired by "The Rescuers", produced triumvirate their first long cartoon The Secret of Nimh (1982; "Nimh - Mrs. Brisbys hemmelige verden"), which technically is an excellent film in the best Disney tradition, particularly in the design and animation is concerned, but as narrative can not compare with Disney's long cartoons. (Note 11)
Slightly better things went with that triumvirats next long cartoon, An American Tail (1986; "Rejsen til Amerika"), which also was produced by none other than Steven Spielberg. This was also behind the production of the three friends long cartoon The Land before Time (1988; "Landet for længe siden"). Both these films were successes at the box office and later as video. Then it went in quick succession with several long cartoons, although without great successes, either artistically or financially. Rock-A-Doodle (1990, "Rock, rul & hanegal"). A movie about rooster Chanticleer, without whose crowing every morning the sun is not believed to be able to stand up, Disney had already in 1940 plans to make, A Troll in Central Park (1994; "Trolden i parken") and All Dogs Goes to Heaven (1989, "Alle hunde ender i himlen"). So far as we know did not all the films get theatrical release, but was distributed only on video. This applies to  Thumbelina (1994, "Tommelise", which is a very free retelling of Hans Christian Andersen's fairytale of the same name).
A transition had Sullivan Bluth Studios Ireland, later renamed Don Bluth Ireland Limited Production or simply Don Bluth Limited, established in the tax reductions Ireland, but during the production of The Pebble and the Penguin" (1995, "Pingvinen og strandstenen") , went it so wrong that Don Bluth obviously did not want to have his name in the movie. Moreover, the company went bankrupt and the three men then returned to America, where it succeeded Don Bluth and Gary Goldman to get the film company Twentieth Century Fox to produce their next long cartoon Anastasia (1998 ), which was a great success both in criticism and in the audience. This both technical and artistic quality film is based on the myth of zar daughter Anastasia, who was alleged to have survived the execution of the zar family in Yekaterinburg in 1918. The film is touching, dramatic, funny and entertaining but marred by the hospitalized musical sequences, as the case is otherwise with most of the 1990s long cartoons. Another weakness in " Anastasia " and many of the other long cartoons whose main characters are more or less serious human figures, is the extensive and explicit use of so-called rotoscopy.
The Rotoscopy technique originally developed and patented by the animated cartoon pioneer Max Fleischer, is that you're shooting scenes with human persons in live action (real film), then by a special technical arrangement simply delineate the movements frame by frame. Below simplifies and adapting the animation drawings or characters after the films more or less naturalistic shapes. This technique is also used to some extent by Walt Disney Productions and other U.S. animation cartoon studios .
The problem with the feature cartoons that Don Bluth over time has produced and staged, is usually that they as a rule put themselves on the Disney model and therefore seems non original and derivative. This does not mean that the films are not at a high level both technically and in entertainment, on the contrary, there is no doubt that Don Bluth and his staff have high quality requirements for their films. But the good will is not enough that you will be able to describe the film as original. (Note 12)
It should be provisionally added that some Danish animators and others who had received their education in the Danish company Swan Productions production of the feature cartoon Valhalla (1985), and later was employed by Don Bluth in Ireland. Here was the opportunity to develop their talent to such an extent that many of them still later was employed as animators in Steven Spielberg's cartoon company DreamWorks Pictures.
After Don Bluth's Irish bankruptcy got several of his employees work at Walt Disney Productions and the other probably in others of the growing number of older and newer American film companies that have either continued or resumed production of feature cartoons. Among those who returned to Disney, was John Pomeroy, who was directing animator on the animated feature film Pocahontas (1994), especially on the the character John Smith, to which actor Mel Gibson has put voice. It was also John Pomeroy, who was directing animator on the character Clayton in the animated feature film Tarzan (1999).
In 1977 started two of the oldest and seasoned veterans among Disney top animators preparing the masterpiece of a book since its publication in 1981 would turn out to be something like a "bible" for the new generations of cartoon people worldwide. The two veteran animators name is Frank Thomas (b. 1912) and Oliver ( Ollie ) Johnston (b. 1912), and the book is titled Disney Animation. The Illusion of Life. The following year the two gentlemen's success with the book Treasures of Disney Animation Art, which is mostly filled with a variety of drawings from several short and long Disney cartoons. 1987 followed another book by the two veterans, namely Too Funny for Words. Disney's Greatest Sight Gags, which explains some of the best and funniest visual gags that occur in many of Disney's short as well as long cartoons. (Note 13)
The two great animators, who were both started working for Disney in 1935, ending their long career of to be directing animators on The Fox and the Hound (1980; "Mads og Mikkel"). In June 1985, they jointly organized a seminar at the Danish Film Institute in Copenhagen, where they in a hilarious, obvious and interesting way were talking about their work and career with Disney. The lecture was accompanied by a series of films examples of what the two men had drawn and animated over the years. We shall later and in a different context hear more about what Frank Thomas and Ollie Johnston further undertook in Copenhagen, where they had made contact with the relatively newly established cartoon films company Swan Production A / S.
For the animation department at Walt Disney Productions, which in the first half of the 1980s was led by Disney's son-in-law, Ron Miller, married to Diana Miller, born Disney, was 1985 pretty devastating, both financially and artistically. It happened with the film The Black Cauldron (1985, "Taran og den sorte gryde" ) , who had been four years in production and in its presentation to the American film censorship was banned for children. As a result, the company decided to withhold the film so far, and it did not get a theatrical release, but only video premiere in the late 1990s.
Work on "The Black Cauldron", which was mainly carried out by a younger generation of creative Disney people at all levels, had been so significant and long lasting that the original cost budget was exceeded significantly. The consequences was that the top leadership of Walt Disney Productions in the company's very turbulent year 1984, came in the hands of Disney's nephew, Roy Disney, Jr., that Ron Miller and his administrative staff was fired. The new management was determined and planned to expand production with the stated purpose of that a large Disney cartoon was to be premiered at least every two years. But since it takes about 3-4 years to produce a feature cartoon they  had therefore to increase the capacity and number of employees that created the company's long cartoons. At the same time, they left the "sanctuary" in Burbank and hired themselves instead into rooms with among others Universal Studios, just like you rented space at the former Max Fleischer Studios, later Paramount's old cartoon studio, Famous Studios in Miami, Florida, which has subsequently been taken over by the film company Metro-Goldwyn-Mayer (MGM). Intensified production was also made possible by that they established production departments of cartoons in a variety of countries, including in Australia, Japan and France.
After this redeployment of Walt Disney Productions' animation department, Walt Disney Pictures, was soon in rapid succession with one cinema and video success after another. After "The Black Cauldron" came following feature cartoon Basil of Baker Street ( 1986; "Mesterdetektiven Basil Mus") and Oliver & Co. (1987), which however, only became moderate successes. But then in 1989 came the first in the series of Disney - feature cartoons, which were huge hits with all sorts of audiences, and was also recognized by the criticism. It began with The Little Mermaid (1989, "Den lille Havfrue", to say the least freely based on Hans Christian Andersen's fairytale of the same name). Then followed The Rescuers Down Under (1990 , " Bernard og Bianca i Australien"), Beauty and the Beast (1991, "Skønheden og Udyret"), Aladdin (1992), The Lion King (1993, "Løvernes konge"), Pocahontas (1994), The Hunchback of Notre Dame (1996; "Klokkeren fra Notre Dame"), Hercules (1996), Mulan (1998), Tarzan (1999), and finally, The Emperor's new Groove (2000, "Kejserens nye flip").
As a more or less direct result of the boom of long cartoons for several reasons was immensely popular during the 1980'- 90's, began a series of other American film companies also to produce long cartoons. Examples of such films include Hemdale Pictures' Little Nemo - Adventures in Slumberland (1992 ; "Lille Nemo") by Winsor McCays famous cartoon of the same name. Ferngully - The Last Rainforest (1993 ; " Ferngully – Den sidste Regnskov"), Turner Pictures Inc. The Pagemaster (1994; "Bøgernes Herre", however, begins and ends as a live action film), Nest Entertainment's The Swan Princess (1994; "Svaneprinsessen"), Amblin Entertainment (a Steven Spielberg company) and Universal Pictures' Balto (1995), Warner Bros.' The Magic Sword: Quest for Camelot " (1998; " Det magiske sværd: Søgen efter Camelot"). DreamWorks Pictures' The Prince of Egypt (1999; "Prinsen af Egypten", ie . The Biblical Moses), later followed by a feature cartoons with biblical motif: "Joseph. the King of Dreams" (2001 ; " Joseph. Drømmenes konge"), DreamWorks Pictures' The Road to El Dorado (2000, "Vejen til El Dorado"), Spirit: Stallion of the Cimarron (2002; "Spirit – Hingsten fra Cimarron") and Sinbad: Legend of the seven Seas (2003; "Sinbad: Legend fra de syv have").
These cartoons are each quite excellent, technical, artistic and entertainment, but except perhaps for "Spirit", they manage either technically or artistically to live up to Disney or Don Bluth's long cartoons. However, it must be said that the stories in "Little Nemo", "The Pagemaster", "Balto", "Prince of Egypt", "King of Dreams", "El Dorado" and "Spirit" are much more original, interesting and relevant than is the case with several of Disney's and Bluth's long cartoons.
The Disney group's attempts to revive the good old and world famous icons: Mickey Mouse, Donald Duck and Goofy on film, has to our knowledge only had moderate success. It began with the featurette Mickey's Christmas Carol ( 1983, "Mickey's julegave") was continued including Mickey Columbus (1985; "Mickey som Columbus"), The Prince and the Pauper (1990, "Prinsen og tiggerdrengen"), "The Three Musketeers" (2004, "De tre Musketerer").
However , there was in the mid-1990s a real revolution in animation technique, well, suffice to say in film art in general. This was linked to the development of computer technology, as with a blow posed new challenges to the world's filmmakers, both of feature films as of cartoons. Probably the greatest pioneers in the computer-generated animation genre is the American John Lasseter.
John Lasseter is a trained animator at Disney, but began early in his career experimenting with computer graphics and computer animation. After having produced several short entertainment films in the new technique, he formed the company Pixar, which, incidentally, has so far worked closely with Walt Disney Pictures. The breakthrough for the computer-generated entertainment film came in with John Lasseters Toy Story (1995), which was the beginning of a new era of computer-generated feature length 'cartoons'.
The ambitious, enterprising and creative Steven Spielberg had also realized the great and new possibilities offered by the computer-generated films. He and his company, Amblin Entertainment, had taken advantage of computer technology already in the feature film Jurassic Park ( 1992), and with his second production company, DreamWorks Pictures, he would of course like to be involved in the new wave. This was especially so with the highly successful computer-generated feature film Shrek (2001). The film was almost a draw in numerous cinemas and provided the impetus for that was made several more films in the same technique and genre.
The apparent success has been the computer-generated films in part, also, and more importantly, in terms of number of tickets sold and subsequently became a cartoon producer par excellence, Walt Disney Pictures, to refrain from producing more dedicated and long 'classiscal' cartoons, at least for now. Instead they aim at to continue the production of computer-generated film entertainment in feature length.
Next section:
The sources for the description of Walt Disney and his career and employees etc. has mainly been the following literature cited in chronological order:
Robert D. Feild: The Art of Walt Disney. The Macmillan Company. New York 1942.
Lo Duca: Le Dessin Animé. Histoire, Esthétique, Technique. Introduction de Walt Disney. Prisma Paris 1948.
Bob Thomas: The art of Animation. The story of the Disney Studio contribution to a new art. Walt Disney Productions. Published by Golden Press, Inc., New York 1958.
Roger Manvell & John Halas: The Technique of Film Animation. Focal Press, London and New York 1959.
Richard Schickel: The Disney Version. The Life, Times, Art and Commerce of Walt Disney. Simon and Schuster. New York 1968.
Frederik G. Jungersen: Disney. Det danske Filmmuseum, København 1968.
Christopher Finch: The Art of Walt Disney. From Mickey Mouse to the Magic Kingdom. Walt
Disney Productions, Burbank, California 1973.
Leonard Maltin: The Disney Films. The wonderful worlds created by Walt Disney. Crown Publishers, Inc., New York 1973.
Piero Zanotti: Walt Disney's magic moments. Arnoldo Mondadori Editore, Milano 1973.
Bob Thomas: Walt Disney. An American Original. Simon and Schuster. New York 1976.
Bob Thomas: The Walt Disney Biography. New English Library / Times Mirror. London 1977.
Frank Thomas & Ollie Johnston: Disney Animation. The Illusion of Life. Abbeville Press, Publishers. New York 1981.
Darline Geis: Walt Disney's Treasury of Stories from Silly Symphonies. Assistant Editor: Anne Yarowsky. Harry N. Abrams, Inc., Publishers, New York 1981.
Frank Thomas & Ollie Johnston: Treasures of Disney Animation Art. Preface by Robert E. Abrams. Introduction by John Canemaker. Abbeville Press, Publishers, New York 1982.
Adrian Bailey: Walt Disney's World of Fantasy. Compiled and designed by Julie & Steve Ridgsway. Everest House Publishers. New York 1982.
John Culhane: Walt Disney's Fantasia. Abrams Inc., New York 1983 (Genudgivet 1987).
Jakob Stegelmann: Tegnefilmens historie. Forlaget Stavnsager ApS 1984.
Leonard Mosley: The Real Walt Disney. The amazing true story behind the king of animation. Futura Publications, London 1985.
Frank Thomas & Ollie Johnston: Too Funny for Words. Disney's Greatest Sight Gags. Abbeville Press. Publishers. New York 1987.
Jakob Stegelmann: Walt Disney. Nyt Nordisk Forlag Arnold Busk, København 1989.
Shamus Culhane: Animation. From Script to Screen. Columbus Books Limited, London 1989.
Frank Thomas & Ollie Johnston: Walt Disney's Bambi. The story and the film. Stewart, Tabori & Chang, New York 1990.
******************