Til start: Dansk Tegnefilms Historie
DANISH CARTOONS 1930 – 1942
<![if !vml]>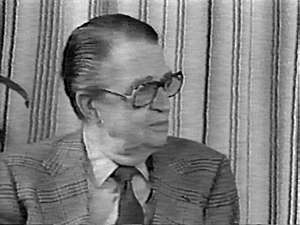 <![endif]><![if !vml]>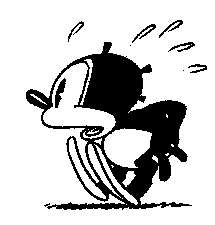 <![endif]>
Danish cartoon nestor, Jørgen Müller (Myller), who has the honor of having made the first Danish entertainment cartoon with sound, Columbus - A bank coup (1934). In addition, he - together with his first student, Henning Dahl Mikkelsen - in 1938–42 was a teacher for a younger generation of students, who would later influence Danish cartoons well into the century. - Photo from the portrait film "It started with Storm P.". Bellevue Studio 1983.
     As mentioned in the previous section, Storm P.'s own work in Danish cartoon production was completely unique in the years 1919 to approx. 1925, when Karl Wieghorst took over the work. Competitors such as Alfred Georg Olsen, with the artist name "Skibstrup", and the artist Richard Johnsen, could not compete with Storm P. at all, at least not in terms of originality and artistic quality.
      But it must also be noted that Storm P.'s cartoon business did not get any direct successor who could immediately take over and continue where he left off. However, at that time there was a schoolboy from Aalborg who had seen some of Storm P.'s cartoons in the cinema, and they allegedly aroused his interest so much that he set out to try to make a cartoon himself.
The boy's name was Jørgen Müller, and he was born in 1910 in Aalborg as the son of a well-known and well-to-do wine merchant and later consul, Sigurd Müller, as people in the city probably knew who he was. As mentioned, the son, Jørgen Müller, began to take an interest in the cartoon medium as a boy. It was in the early 1920s, and was allegedly due in particular to some of Storm P.'s cartoons, which caught his interest. As a 16-year-old schoolboy, he tried to make cartoons himself, but initially gave it up again because he could not really figure out how to do it, to get a reasonably good and acceptable result.
    Jørgen Müller's widow, Mrs. Edel Müller, b. Hansen, told me in 1998 that after finishing school, Jørgen Müller had been in the grocery store for two years, i.e. 1926-28, but that this subject did not interest him. But even though it did not really bother the father, who would rather have seen the boy follow in his footsteps, he made sure that he was sent to the German capital, Berlin, where he became a student at an advertising agency.
Jørgen Myller in England
At the advertising agency's design studio, the then 18-year-old Jørgen Müller received his basic education. He quickly proved to have a flair for advertising drawing, and as a 19-year-old he was therefore sent over to the advertising agency's branch in London. Here came the gifted young man shortly after in connection with a couple of England's cartoon pioneers, Sidney Griffiths and Brian White. Both had previously worked for Cardiff Film, Wardour Street, London, where they collaborated on Griffith's cartoon series Jerry the Troublesome Tyke, which from May 1925 to around 1928 could be seen in cinemas in the film week revue Pathé Pictorial. The series with the puppy Jerry replaced Pat Sullivan's "Felix the Cat", which Pathé had lost the rights to show. Brian White was used to drawing and animating small dogs, having previously worked as an animator on G. E. Studdy's cartoon series "Bonzo". (Note 1)
     In the portrait film It Began with Storm P., Jørgen Myller tells about his time with Griffiths and White, that no cells were used, but that they animated and drew on paper, as some of the earliest cartoon pioneers had done. And in order not to have to draw the background on every single drawing, they made sure that the figures were always in the lower part of the sheet of paper, while the background was in the upper third of the sheet. Then the top third of the sheets on which the figure was found were cut away so that the line drawing of the background became visible. The sheets of paper used were for the purpose the hole in the bottom edge by means of a hole punch of the kind commonly used for archiving office papers. The holes in the sheets fit exactly to a metal rail with two approx. 6 mm high pins, and in this way it was possible to keep the sheets in exactly the same place during the process, both while animating and while the drawings were being photographed on film.
     Thereafter, both animation drawings and backgrounds were recorded on black and white High Contrast Monochrome Film, which meant that the paper edge of the animation drawings, which was visible to the naked eye, did not appear on the film. However, this technique was only useful in the technically relatively primitive commercial cartoons produced at the time. The method, on the other hand, did not work in connection with the use of Multichrome black and white film, which makes it possible to use a spectrum of shades of gray from black to white. And even less could the method be used in connection with shooting on color film. Griffiths and White started using color film, the so-called Ray Color System, as early as 1933, but then Jørgen Myller was fairly well established at his own cartoon studio in Vesterport in Copenhagen. (Note 2)
     It was around 1929 that the demands on the cartoon technique increased markedly. There should now be a background over the entire cartoon image, and therefore the fast and relatively easy technique from before could no longer be used. One therefore had to switch to using the more advanced method that had long been developed and used in American cartoons, namely, to copy the animated drawings onto transparent celluloid sheets, the so-called cells. This meant that you could see the painted background quite clearly behind the figure / figures. Greater demands were also made on the animation itself, as they began to sketch animated key-poses, which were subsequently drawn and intermediate drawn and then drawn up on cells and colored. In addition, the animation was 'timed', ie the movements of one or more characters and the length of a scene in feet, ie. 16 bill./sec. It later meant that one could also determine the movements of a figure in musical tempo in the form of beats, which were measured using a metronome, e.g. 8-image clock, 16-image clock, etc. Later, however, a so-called stopwatch of the kind also used in sports contexts was used.
     After the series with the cutter Jerry had ended, Griffiths and White primarily produced small commercial cartoons, and it was during this period that Jørgen Myller got in touch with them and quickly proved to be firm for the profession. So firm that he was soon given the task of drawing and directing a cartoon feature, Tiptoe Through the Tulips, which was intended to appear on stage in connection with a performance by the then famous Jack Hylton and his band. It was after his employment with Griffiths and White that Jørgen Müller understandably replaced the German ü in his surname with an English y, which was otherwise just as useful in Denmark as in England. (Note 3)
     It caused a great stir among filmmakers and cinema owners all over the world when the speech and sound film appeared in 1927. There was also a great uproar in cartoon circles when Disney's first tone cartoon, Steamboat Willie, came on the market in 1928. It was difficult at first. by figuring out which sound film system to use for movies as well as for cartoons, and moreover, different cinemas had different sound systems installed. As far as cartoons were concerned, they also had problems finding a method that could make the animation fit the sound or vice versa, e.g. a figure's speech or song should preferably fit synchronously to the figure(s)'s mouth movements. Such problems had been solved at Disney, just as so many other technical and artistic problems that had arisen in connection with the production of modern cartoons had been solved.
<![if !vml]>

<![endif]>
Letterhead for Jørgen Myller's first cartoon company. The original is in color.
Animated Cartoon Company - Copenhagen
In 1929, when sound film technology had become more common, Griffiths and White formed the company Comedy Cartoon Sound Films Company, where they, among other things. produced the cartoon Topical Breezes. At that time, Jørgen Myller was still employed by the company and continued to do so until 1931, when he had felt like starting for himself and therefore returned home to Denmark, where he settled in Copenhagen. It was then, as later, that most of Danish film production took place. But since Storm P. around 1925 and Wieghorst had given up working on cartoons a few years later, there were no longer any significant cartoonists and cartoon producers in Denmark.
     So it was a relatively virgin market that the then 21-year-old Jørgen Myller returned home to. It was therefore a matter of creating a need and a demand for, first and foremost, advertising cartoons. To this end, he entered into a business partnership with the financially savvy Frenchman Yvon Denise, and under the company name Animated Cartoon Company, Vesterport, Copenhagen, a number of cartoons were produced in the years 1932-34. First and foremost, advertising cartoons, as Myller's cartoon company immediately from the start secured orders for advertising cartoons from the advertising agencies Monterossi and Bergenholtz. (Note 4)
<![if !vml]>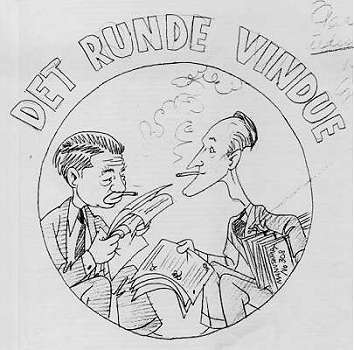 <![endif]>
This drawing shows Jørgen Myller and Anker Roepstorff, who by chance met each other and got into a conversation in the gramophone shop "Det Runde Vindue" in Frederiksberggade in 1932. Roepstorff was employed by Animated Cartoon Company as an idea man, screenwriter and cartoonist. The drawing, which was drawn by Jørgen Myller in 1942, belongs to © Mrs. Inge Roepstorff.
     Jørgen Myller's new cartoon studio soon received a lot of press coverage, probably brought about by Yvon Denise, and already in the year of establishment 1932, Anker Roepstorff was employed as an intermediate illustrator and screenwriter. Both the jazz-interested young people, Myller and Roepstorff, had met by chance in the gramophone shop "Det Runde Vindue" on Frederiksberggade, where they had fallen into conversation. This led to Roepstorff's employment in the firm, and it was initially to last until 1934, when Myller suddenly and unexpectedly for his employees again went to London, to work for Sidney Griffiths.
     But before that, the company had a large stake with its own, hand-drawn letterhead and printed text, which, like the company name, was of course written in English: ANIMATED CARTOON COMPANY - COPENHAGEN. Office: Ellehøj 3, Hellerup. Production: Jørgen Myller. Sale Department: Yvon Denize. Musical Arrangers: Carlo & Chr. Thomsen. Music by: Jack Hylton and His Orchestra - Kai Julian and His Band. (Note that the word 'Compagny' in the company name is misspelled with a 'g', where in English it is otherwise spelled Company. Likewise, 'Musik by' is spelled in Danish with a 'k' error instead of 'c', i.e. 'Music city').
     In the meantime, some younger ladies had been hired for drawing and coloring, just as the cartoonist Richard Møller had also been hired as an intermediary in the company. But just as important had the painter's friend from Skive, Henning Dahl Mikkelsen, arrived. About this, Myller said appreciatively and without reservation (freely quoted): "He proved from the very beginning to be a kind of genius for making cartoons!" (Note 5)
<![if !vml]>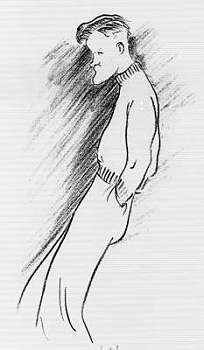 <![endif]>
Jørgen Myller's first animator student, the very tall and only 17-year-old Henning Dahl Mikkelsen, is seen here drawn in 1933 by Anker Roepstorff. The drawing belongs to © Mrs. Inge Roepstorff.
Myller's first animator student
Henning Dahl Mikkelsen was born on January 9, 1915 in Skive as the son of the city's leading hardware store. The boy's drawing talent had already attracted attention during school time and especially when he came to high school. He graduated as a 16-year-old in 1931 and then apprenticed as a painter with a local painting company. However, the family moved to Struer, where the radio factory Bang & Olufsen was based. That fact led to the young Mikkelsen, who had long since begun to practice comic commercials and the like, already at the age of 17 drawing the simple but excellent and since then famous logo for the radio factory B&O, which is used that day Today.
     However, Henning Dahl Mikkelsen had become aware that he wanted to be a cartoonist, and preferably a cartoonist, and he had therefore begun to wonder if he should interrupt his apprenticeship. The triggering moment for his fateful decision came as a result of one day in 1932 he read in the newspaper or some magazine about Jørgen Myller and his cartoon company in Copenhagen, and it made him want to try his hand at this genre. He then wrote to the master and attached some samples of his drawing art. As a result, the young Mikkelsen, whom we will now call Mik for convenience, although he first assumed this artist name several years later, was hired and therefore traveled to the capital, where he actually came to live most of his time in Denmark. (Note 6)
     At that time, in 1932, Jørgen Myller and Anker Roepstorff were both 22 years old, while Mik was only 17 years old, but already a very skilled cartoonist and animator, who in time would prove to take over Myller's position. However, Myller and Mik came together to influence a generation of Danish cartoonists, who in the years 1938 to 1946 were their talented students. First at Gutenberghus 1938-39 and later at VEPRO 1939-42, and even later as freelance assistants. There were names like Børge Ring, Bjørn Frank Jensen (Bjørn), Kjeld Simonsen (Simon), Børge Hamberg, Erik Christensen (Chris) and Erik Rus. Even later, when Mik had become independent and had set up his own studio, 1942-46, it was names like Helge Hau, Kaj Pindal and Ib Steinaa.
<![if !vml]>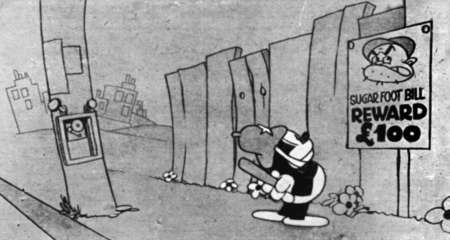 <![endif]>
Scene image from Jørgen Myller's first Danish short entertainment cartoon with sound. In the photo, the main character Columbus is seen as an English street cop, looking at a poster with a picture of the wanted criminal Sugar Foot Bill. It's clear to see that the film and its design had taken inspiration in American entertainment cartoons and especially in Hugh Harman and Rudolph Ising's cartoon series with the Negro boy Bosko. © 1934 Jørgen Myller & Animated Cartoon Company.
<![if !vml]>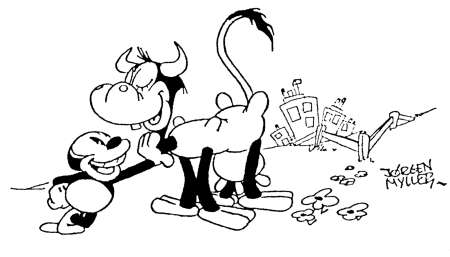 <![endif]>
Originally, it was the intention and plan that the Animated Cartoon Company would produce a series of short cartoons with Columbus, but it proved impossible to finance the project, especially since the pilot film "A Bank Coup" made a huge deficit. The cow in the picture plays an important role in the film. © 1934 Jørgen Myller & Animated Cartoon Company.
<![if !vml]>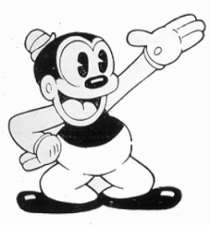 <![endif]><![if !vml]>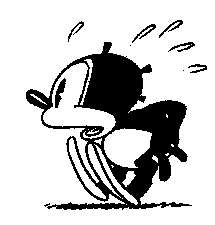 <![endif]>
Compared to Columbus, here is Hugh Harman and Rudolph Ising's Bosko, who was the main character in a series of cartoons that began in 1930 and ended around 1940. The films with Bosko had many similarities with contemporary Mickey Mouse cartoons, both in terms of action and animation, but never became as popular as these. It's Columbus on the right.- Bosko © 1930-40 by Hugh Harman & Rudolph Ising. - Columbus: © 1934 Jørgen Myller.
     But on behalf of the small company in Vesterport, both Myller, Mik and Roepstorff had big plans for the future: They wanted to produce short entertainment cartoons a la Disney for both the Danish and foreign markets, preferably the English. To that end, as early as 1933, what can rightly be called Denmark's first modern and professional entertainment cartoon with sound was created. It was entitled "A Bank Robbery". The film's main character is a little Negro boy named Columbus, who most likely had his role model in Hugh Harman's and Rudolph Ising's at the time popular cartoon series with the Negro boy "Bosko", which was born in 1930 in the movie "Bosko, The Talk-ink Kid ". The series, produced by Leon Schlesinger, was part of Warner Bros. cartoon series, of which Merrie Melodies and Looney Tunes quickly became world famous. These two series were probably intended as a kind of counterpart to the Disney Silly Symphony series. The Bosko series continued until 1940. (Note 7)
First Danish cartoon (with sound)
 Under the headline "First Danish cartoon", Politiken was able to announce the following on 9 February 1934:
    Jørgen Myller's cartoon hero "Columbus" debuts on Sunday.
     A couple of years ago, the young Danish cartoonist Jørgen Myller returned home from London and drew up big plans for a consortium that would release a whole series of cartoons, inspired by him. It has obviously had its difficulties, and so far only a few commercials in his line have been seen in cinemas. After all, it is not so straightforward to compete with Walt Disney. Now, however, comes his first entertainment cartoon, which premieres in Carlton on Sunday as a form program for the second place in the magazine featured Bali films.
     Jørgen Myller's cartoon hero is the Negro boy Columbus, who in the first film, "A Bank Robbery", appears as an officer who pursues the gangster Sugarfoot. The persecution takes place i.a. on a cow on roller skates, and as Columbus somewhere runs from his shadow, it shouts for him. When the gangster has to break open a safe, it is not done with the help of a blowtorch, but by first filling the mouth with hydrochloric acid and blowing it around the lock.
    The film is composed of approx. 8000 drawings, and the music is partly original, partly old well-known melodies such as. a waltz by Waldteufel played while a pair of twins run on roller skates. The music is arranged by the two well-known jazz musicians Erik Kragh and Leo Mathiesen and recorded by these two and five musicians from Tuxen's orchestra. It is also the musicians who have recorded the various roles, and the language is English for the sake of the film's sales abroad. Jørgen Myller is currently working on a new cartoon that will be a kind of parody of "Carmen".
<![if !vml]>
<![endif]>
A soldier came marching along the country road: "One two, one two! … "This is how H.C. Andersen's famous adventure begins. And from this drawing from Jørgen Myller's and Dahl Mikkelsen's 8-minute cartoon from 1934, it is clear that the two hopeful cartoonists had intended a cheerful version of the action's action. © 1934 Jørgen Myller & Animated Cartoon Company.
The fairy tale "The Tinderbox" (in Danish: "Fyrtøjet") as an 8-minute cartoon
Jørgen Myller has told that Mik received DKK 150 in salary per. month, and Roepstorff DKK 100. What Myller himself received, the story does not report anything about. But I wonder if he has received a slightly higher salary than the other two. However, Myller was disappointed to find that, from an economic point of view, it had not paid off to produce the Columbus film. Admittedly, the cost was not great, but the revenue on the film was even less.
<![if !vml]>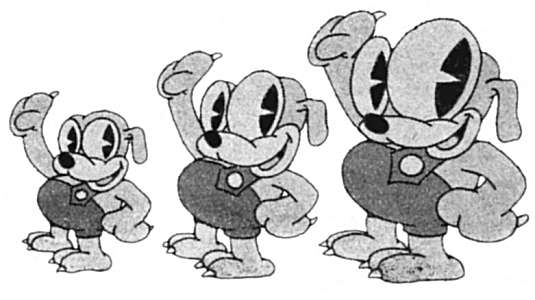 <![endif]>
Above is the fairy tale's three magical powers in the form of three fast and helpful dogs, who end up fulfilling the soldier's desire to marry the sweetheart of his heart, the princess of the kingdom. The characters are drawn in the common American and European cartoon style of the 1930s. © 1934 Jørgen Myller & Animated Cartoon Company.
      But despite the difficult production conditions, it is probably so important that the small team during 1934 produced an 8-minute cartoon entitled "Fyrtøjet", which was of course based on H.C. Andersen's fairy tales of the same name. It is not known exactly whether it was Myller or Mik who designed the film's characters, or maybe they did it together, but at least it turned into some glorious, grotesque characters in the best 'old-fashioned' cartoon style. However, this style was modern in the 1930s. (Note 8)
<![if !vml]>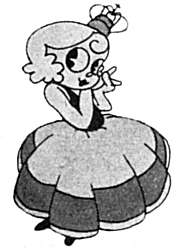 <![endif]><![if !vml]>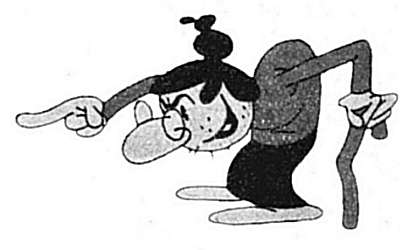 <![endif]>
Above is the adorable, innocent princess and her opposite pole, the horrible witch of superstition that the soldier chops off as she does not want to tell him what she wants with the 'firecracker' he has brought for her down in the hollow tree.
     As you probably know, the fairy tale "Fyrtøjet" ends happily with the three dogs preventing the soldier from being hanged and instead marrying the kingdom's princess. The king and queen and all the authorities must see themselves set aside in favor of the new king, the soldier, and his queen, the princess. © 1934 Jørgen Myller & Animated Cartoon Company.
    As early as around 1933, Anker Roepstorff had an idea for a comic cartoon about Bizet's opera "Carmen", for which he wrote a detailed screenplay the following year. The playing time of the film would be about 9-10 minutes, which is a little longer than the length of a normal short cartoon, which was 7-8 minutes. The intention was that the film, like "Fyrtøjet", would be produced for the English market, of which Jørgen Myller had some knowledge via his English connections in London. As far as is known, the film was started up, but it did not come any further in the first place, simply because Myller and his company did not own the king's coin and were on the verge of bankruptcy. Therefore, the project simply had to be put aside in favor of more urgent and rewarding tasks.
     However, it was the mentioned situation that was the reason why the good Jørgen Myller one day did not show up for his work at the studio in Vesterport. No one had any idea what had become of him, but his friends and colleagues knew from experience that he had a slightly bohemian nature and could occasionally find a way to "roam" to the humble places in Copenhagen. So at first no one wondered. This was done only when he had not appeared the next day and no one had heard from him either.
<![if !vml]>

<![endif]>
Anson Dyer's Color Cartoon Studio, Anglia Films
This time, however, it turned out that Myller had acted resolutely, for a few days later Mik received a letter from him, and to his surprise Mik could see from the stamp of the envelope that it had been sent from London. The letter stated that he, Myller, had opened a new studio on Jermyn Street in London. But just as importantly, the letter included an invitation to Mik to travel over there as soon as possible and take Roepstorff with him. (Note 9)
     It then became the task for Dahl Mikkelsen and Anker Roepstorff to continue the Animated Cartoon Company and complete the tasks that were already in order. It has probably been about commercial cartoons for either Monterossi or Bergenholz or for both. However, as mentioned, they received the letter from Myller, in which he urged his two friends and colleagues to close the studio in Vesterport and then travel over to him in England, because there would be cartoon work for them at British Utility Film Ltd., Charing Cross Rd., London, the same company that Myller himself worked for.
     1934-35 the three friends worked together in the said company, and so did they when they switched to the newly started Color Cartoons Studio, Anglia Films Ltd, Jermyn Street, London S.W. This company was on the initiative of the cartoon pioneer Anson Dyer created and owned by the financier Archibald Nettlefold, who had previously collaborated with Dyer when he in 1927 made "The first full-length animated cartoon feature film": "The Story of the Flag".
As previously mentioned, Anson Dyer was the initiator, artistically responsible manager and director at Anglia Films, but the daily production was supervised by Jørgen Myller's former teacher and friend, Sidney Griffiths. Under the latter's knowledgeable leadership, an intensive production of cartoons began right from the start, first and foremost by the cartoon series with the musketeer Sam Small as the main character throughout.
<![if !vml]>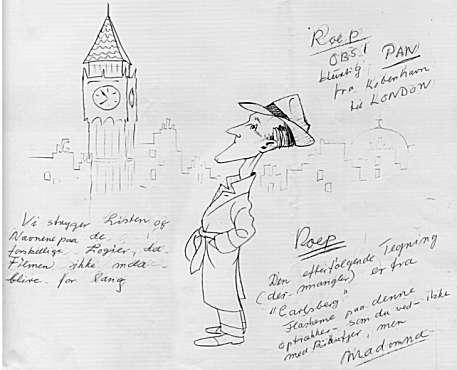 <![endif]>
Above, Jørgen Myller drew Roepstorff during their joint stay in London from 1935–37, where they and Mik worked for Anson Dyer at Anglia Films. The handwritten texts on the drawing refer in particular to the work with cartoons: "We delete the list and the names of the various lodgings, as the film must not be too long." - "Call! NOTE! Remember PAN from Copenhagen to London" - "Roep. The following drawing (missing) is from "Carlsberg" - The bottles on this are drawn - as you know - not with scratch feathers, but Madonna "[Madonna is slang for beer opener] - Drawing by Jørgen Myller © 1942 Inge Roepstorff.
     Both Jørgen Myller and Dahl Mikkelsen worked as a mix of designers, animators and directors on the cartoons they got to do in the company. Anker Roepstorff continued as a screenwriter and cartoonist, and without any evidence of this, it must be considered probable that Roepstorff worked as a cartoonist on the Sam Small cartoon series. The first film in the series was titled "Sam and his Musket", and it premiered in 1936. (Note 10)
<![if !vml]>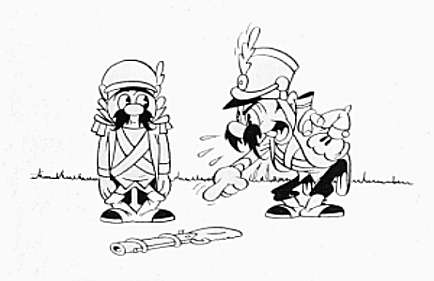 <![endif]>
Situation picture from Anson Dyer's cartoon series with the musketeer Sam Small, of which 1935-37 a total of 6 films were made, which were animated by Jørgen Myller and Henning Dahl Mikkelsen. Anker Roepstorff was the cartoonist and creator of these and several other of the cartoons produced by Anglia Films. - © 1935-37 Anson Dyer & Anglia Films, London.
Bizet's opera "Carmen" as a 10-minute cartoon
At an early stage, Myller, Mik and Roepstorff managed to convince Anson Dyer that it would be an obvious topic to make the cartoon "Carmen", and Dyer was also involved in the idea. As mentioned, Roepstorff had already written the screenplay at home in Denmark, so the next thing was to design some suitable characters for the film. That task was handed over to Mik, who drew some absolutely charming and comical characters: Carmen, Don Jose also called Don Pedro and the toreador Escamillo. Production began and the film premiered at the same time as "Sam and his Musket", in 1936. (Note 11)
Towards the end of the 1930s, however, the three Danes with Anson Dyer began to long for home to Denmark and their families, but perhaps Mik and Myller in particular also thought that they wanted to work for themselves. In any case, it was not because there was a lack of assignments at Anglia Films for the three, because Anson Dyer was reportedly upset that at least Roepstorff resigned. But the fact is that Roepstorff was the first to return home to Copenhagen in the spring of 1937, where he was hired as a guide at the Carlsberg brewery during the summer. It lasted until the summer of 1938. See about this in Anker Roepstorff's biography here on the website.
     During his stay in England, Mik had occasionally been at home in Copenhagen, mainly to contact the advertising agency Monterossi, partly to watch and check the cartoon or cartoons that his assistant at the agency, the advertising cartoonist Bjørn Frank Jensen, had meanwhile completed after his publication, and partly to negotiate new assignments. After finishing his work at Anglia Films, Henning Dahl Mikkelsen, presumably in the autumn of 1937, also left England and traveled back to Copenhagen, where he now really settled down as a cartoonist and supplier of cartoon work. (Note 12)
<![if !vml]>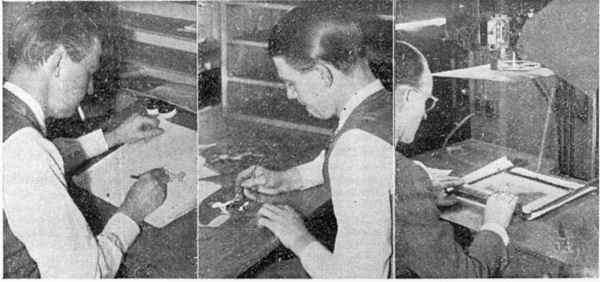 <![endif]>
To the left, Jørgen Myller is seen at the animation light desk and in the middle as a background painter. To the right, the finished result is photographed on the trick table. Unfortunately, the photographer's name is not known. The three photos are from Jørgen Myller's time at Gutenberghus Reklame Film 1938-39. - © 1939 B.T., January 1, 1939.
Gutenberghus Reklame Film and VEPRO
Shortly afterwards, Jørgen Myller also returned to Copenhagen, where he soon contacted Gutenberghus Reklame Film. According to Myller, a partnership was formed between Gutenberghus and himself. It should have been called "International Color Cartoon Company", a name that was never used. But a fact is that in the next years' time, commercials were produced for e.g. Houlberg Pølser, Steff-Pølser, Persil Washing powder and the hair dryer Hansa. It was again Anker Roepstorff who had written the scripts for these films. And especially the films for Houlberg Pølser and Steff-Pølser became extremely popular among cinema-goers of that time.
     Jørgen Myller told in 1983 that in 1938 he had three students in his cartoon studio at Gutenberghus, namely Børge Ring, Bjørn Frank Jensen and Per Lygum. With the first two it is true enough, but the latter must be a memory error, because Per Lygum first became a student at Jørgen Myller many more years later, more precisely in 1948, when Myller worked as a directing animator at Dansk Farve- og Tegnefilm A/S 'production of the pilot film for the feature film "Klods-Hans".
October 1938 - April 1939 Roepstorff was employed by Gutenberghus Reklame Film, where he assisted the similarly returned Jørgen Müller, among others. on a series of excellent commercial cartoons for Houlberg Pølser, for which he partly wrote scripts and partly was an intermediate cartoonist. He then returned to Carlsberg as a guide from April to September 1, 1939. In 1940, Roepstorff again worked for Jørgen Müller and Dahl Mikkelsen, who had meanwhile become artistic directors at VEPRO A/S in Hovedvagtsgade, and he followed when the company in 1941 moved to Svanemøllevej in Hellerup. (Note 13)
<![if !vml]>
<![endif]>
Above is a sketch of VEPRO A / S 'logo. But whether it was Myller who originally designed the logo is not known, but it is at least him who made the above sketch in 1942 in connection with a wedding greeting to Inge and Anker Roepstorff. - This and a number of other drawings by Myller on the same occasion belong to © 1942 Mrs. Inge Roepstorff.
<![if !vml]>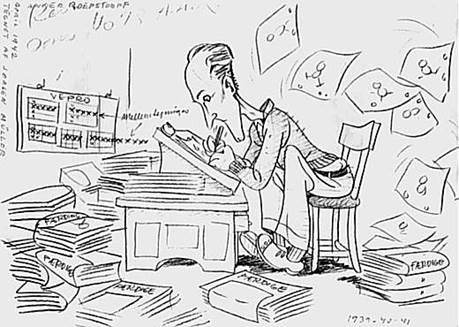 <![endif]>
Above is the always diligent and energetic Anker Roepstorff, who in the years 1939, 40 and 41 almost spray-painted the intermediate drawings at a pace that other artists had difficulty following. The drawing was drawn by Jørgen Myller in 1942 and is one of a series that Inge and Anker Roepstorff received on the occasion of their wedding. © 1942 Inge Roepstorff.
     The particularly interesting thing about Jørgen Myller and his work as artistic director and chief illustrator at VEPRO, is that he does not mention anything about it at all in the portrait program "It started with Storm P." Myller says in it directly that it was Gutenberghus he worked for in the period 1938 to 1942. This is also true to this extent, as Gutenberghus Reklame Film was a customer of VEPRO. In a lengthy telephone conversation I myself had with Myller in the spring of 1985, he energetically denied that he had ever worked for a company called VEPRO. This was so much more peculiar that there is clear and unequivocal documentation that Myller - as well as Mik and Roepstorff and others. - was employed by VEPRO from the spring of 1939 until the autumn of 1942, when the company's Danish branch closed.
<![if !vml]>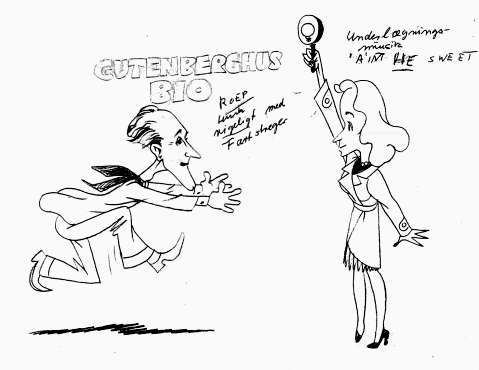 <![endif]>
Drawing by Jørgen Myller which alludes to the love affair between Anker Roepstorff and Inge Caroc, who was a photographer at Gutenberghus at the time when Myller and Roepstorff also worked in the house. With a pencil, Myller has written: "Roep Remember plenty of speed lines" and "Background music "A'int HE Sweet". The drawing, which is extremely well-liked, is one of a series of drawings that Myller made as a gift on the occasion of Inge and Anker Roepstorff's wedding in 1942. - © 1942 Inge Roepstorff.
    According to Mrs Inge Roepstorff, the explanation for Myller 'memory failure' must be sought in the fact that VEPRO was a German-owned company, which was also run by a German director, Jürgen Stengel, with his wife, Irmgard Stengel, as secretary. There was no problem in the fact that the company was German-owned. The problem, on the other hand, was that Danes worked for the company during Nazi Germany's occupation of Denmark 1940-45. Direct cooperation with the Germans, especially after 1941, was considered something in the direction of nationally harmful business. Danes who did so were described in the illegal press as collaborators, and the word alone sounded ominous at the time. But it was worse to get the term "guardian" hooked on him. During the occupation, this was the case for a number of Danish manufacturers and companies that produced and delivered goods to the Germans. During the liberation days in 1945, a large number of Danes were arrested by the resistance movement's 'soldiers', the freedom fighters, and charged with nationally harmful activities, either as collaborators, guardsmen or even stabbers. Many of these were subsequently convicted in Danish courts, some were sentenced to death, others to long prison terms, while in some cases there was no legal basis for the charge, which is why the persons in question were therefore released. (Note 14)
<![if !vml]>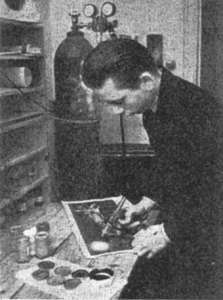 <![endif]>    <![if !vml]>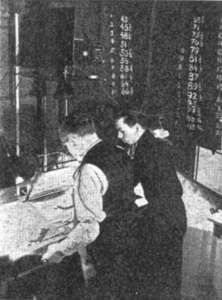 <![endif]>
Above, on the left, Jørgen Myller is seen using the spray gun on a background, a sophistication, which cartoonists were usually quite happy about. However, only a few understood how to handle this special painting tool. - To the right are the trick photographer Marius Holdt and Jørgen Myller behind the trick table, in the process of making a scene ready for recording. - © 1941 Mandens Blad.
<![if !vml]>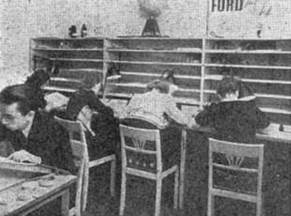 <![endif]>